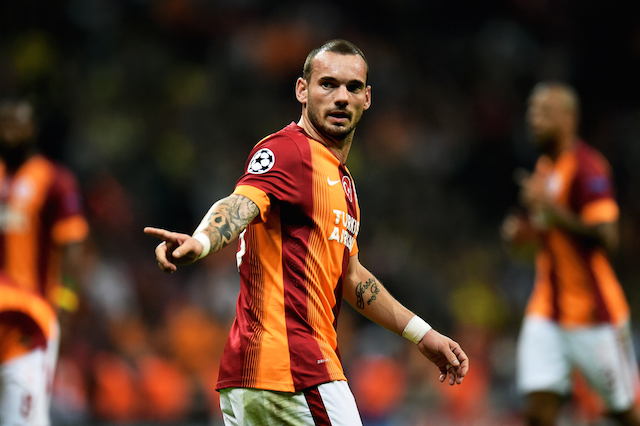 Everton have been closely linked with Galatasaray star Wesley Sneijder with AMK claiming that the Toffees are ready to activate his €7.5m release clause.
According to the Express, Koeman has a transfer budget of £100m this summer following the arrival of major share holder Farad Moshiri.
We took a look at how Everton fans responded to news of Sneijder ending up at the Premier League outfit on social media.
News of Sneijder being on the verge of joining Everton seemed to go down quite well with most fans.
Everton apparently made a bid for Sneijder, I like that.. #EFC

— Luc (@DailyRender) June 22, 2016
Well not with everyone.
Does Sneijder Have Something to Offer Everton? https://t.co/H6wfsvtbko

— Toffees Updates (@Toffees_Updates) June 24, 2016
But that was the end of that.
Can't believe I'm seeing Everton fans being negative about meeting Sneijder's release clause. Everton. A club who regularly field Cleverley.

— ODDSbible (@ODDSbible) June 22, 2016
Generally most fans seemed like they would want Sneijder at the club and it would mark his first stint in the Premier League after years being linked with Manchester United.
Everton after sneijder? Go on get him!! @Everton

— james vallom (@vallom2012) June 24, 2016
Others were sceptical urging fans not to get too carried away before anything is final.
I'd love Sneijder. But I'm not getting excited until he's holding an Everton Shirt. This is Everton. Nothing is straight forward.

— Jack (@JM1TTY) June 22, 2016
Everton have also been linked with Fenerbahce star Luis Nani who fans may know better from his time at Manchester United.
The Portuguese international has an €8.5 million minimum fee release clause.
sneijder is my favorite player to play the game. If he gets signed to Everton I'll support them the rest of my life in the prem

— Peasant (@Mark_Williams3) June 24, 2016
And we end on a Brexit joke.
Unbelievable on so many levels but now looks like Wesley Sneijder will cost Everton €75m not the €7.2 originally thought. #EURef #Everton

— Paul Ellis (@Paul_Ellis147) June 24, 2016
https://twitter.com/EFC_FOLLOWBLUES/status/746256182566854657