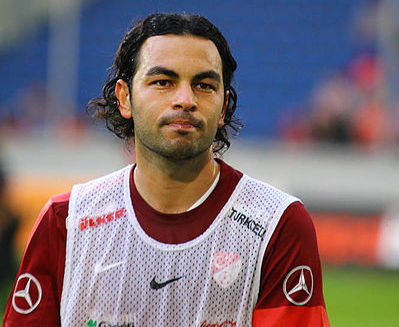 Everton & Leicester City target Selçuk Inan has not been transfer listed according to Abdurrahim Albayrak [divider]
Galatasaray midfielder Selçuk Inan has not been transfer listed according to club board member Abdurrahim Albayrak.
"The stories about Galatasaray no longer wanting Selçuk Inan are false," Albayrak said.
"They are trying to ruin Galatasaray's team spirit and Selçuk did not say anything bad about Pranelli either.
"Nobody has a right to spread these rumours about our players, I urge reporters to be careful about what they right.
"If this continues we may have to ban the press again."
Everton and Leicester City have been linked with Inan according to Talk Sport.
Inan was reported to have been transfer listed following a string of poor performances for Galatasaray.
The Turkish international earns €2.75 million per season with an additional €25,000 appearance bonus at Galatasaray.
The 29-year-old joined Galatasaray from Trabzonspor on a free transfer in July 2011.
Inan won the Süper Lig title twice with the Lions and also reached the quarter-finals and Last 16 of the Champions League since joining from Trabzonspor.