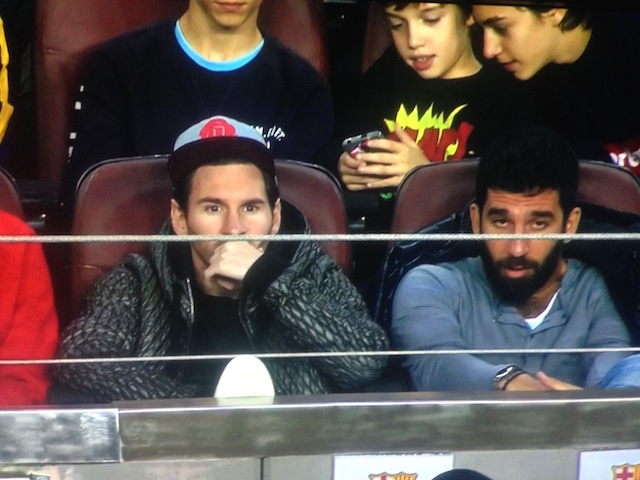 Barcelona won the double last night beating Sevilla in extra-time but Arda Turan did not feature at any stage in the Spanish Cup final.
Turan started on the bench and ended the game on the bench but he did get to lift the cup for the second time in his career.
We took to social media to find out how fans reacted to Turan being left out of the final altogether.
Turan went into the game in a confident mood sharing the following picture on twitter.
Arrived in Madrid for the final. Let's do it team! #FCBarcelona #CopaDelRey pic.twitter.com/JXXKSLxyN9

— Arda Turan (@ArdaTuran) May 22, 2016
Meanwhile Turkey were playing against England and could really have done with Turan instead of letting him sit on the bench for Barca.
Worth noting Turkey without two of their best two players… Arda Turan and Nuri Sahin because of domestic cup finals

— John Cross (@johncrossmirror) May 22, 2016
There were high hopes going into the game.
No Arda Turan for Turkey. He will be in the squad for Barcelona vs Sevilla in Copa Del Rey later today.

— Red&Yellow (@Ataqoz) May 22, 2016
Turan will be happy to know he does still have backers.
https://twitter.com/theonlytalh/status/734433707055009792
But he may be disheartened that Rafinha was picked over him when it came to the substitutions.
Rafinha preferred to Sergi Roberto or Arda Turan… another big call by Luis Enrique…

— Dermot Corrigan (@dermotmcorrigan) May 22, 2016
Turan has been linked with a move to Premier League this summer but the fan below thinks it will not be to one of the top four sides.
Can see Arda Turan at Stoke City or West Ham next year. Maybe Tottenham

— Eagles (5-1) (@FlacoRMCF) May 23, 2016
Honestly, feel like if Arda Turan was transferred to a Premier League side like Chelsea he would've had a better season to his name

— Eagles (5-1) (@FlacoRMCF) May 23, 2016
Pretty harsh considering Turan missed the first half of the season.
https://twitter.com/IIDivinoCodino/status/734538798521036800