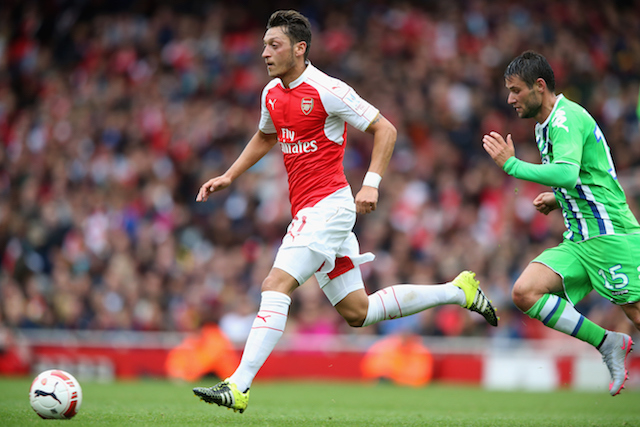 Germany were on the end of a shock 1-0 loss against Ireland in their final from last Euro 2016 Group D match.
The German national team failed to secure a place in the tournament following the defeat but only need a point from their last game to guarantee a place at the European championships this summer.
Arsenal star Mesut Özil started alongside Muller and Gotze. The trio had been referred to as 'Gözilla' by the BILD but the German Godzilla was no match for the Irish who ended up slaying the giant monster.
The Irish take on second placed Poland next and need a win to secure a place in the next round but have already booked a place in the playoff round.
Özil was of course coming off the back of a wonderful performance in the 3-0 win over Manchester United scoring and providing an assist for his team.
We take a look at the fans reaction on social media to the World Cup winners performance against the Irish and were in for some intriguing responses.
As is to be expected Özil received quite a bit of criticism especially for failing to find a way past the Irish defence.
@LeProfAido all German players had that " we are gonna win anyway"mentality
Ozil typified it and has often been the same for us. Pedestrian

— VV (@VintageDinklage) October 9, 2015
Mc Carthy emptied the pocket of coutinho from Sunday past and put ozil and co in there instead last night #legend

— Darren Mc Ardle (@Dazmc78) October 9, 2015
Then there were the more cynical Arsenal fans just going their star man returns to the Premier League injury free.
@Theory14Henry We can't really afford to lose Coquelin, Sanchez, Ozil or Walcott. If they all stay injury free we have a good chance

— Dodge (@Ya__Gunners__Ya) October 9, 2015
But there was also this sublime piece of skill that went viral.
Ozil adds another victim to the Mesut turn https://t.co/QHDHCqFLKV

— DC (@davidjcarri) October 9, 2015