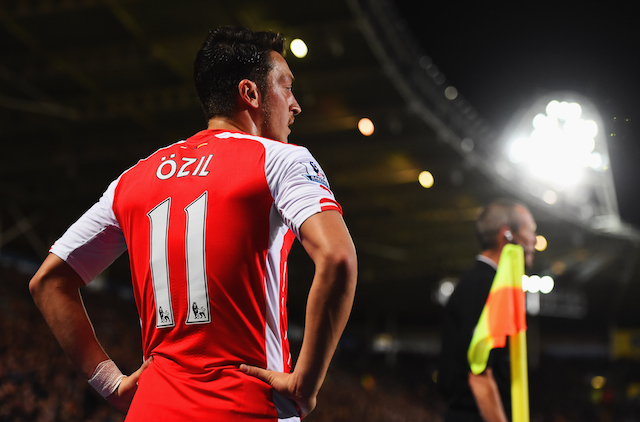 Germany may have beat Italy on penalties in the Euro 2016 quarter-finals but Mesut Ozil will want to forget about his spot kick.
The Arsenal star has now missed his last two penalties for Germany in Euro 2016.
We took a look at how Arsenal fans reacted on social media to the Germany international of Turkish origin missing yet another spot kick.
Well here it is in all its glory…
Ozil's goal and penalty miss against Italy pic.twitter.com/UKkYplWbvx

— ArsenalArena (@ArsenalArena) July 2, 2016
Ozil has now missed four of his last five penalties in all competitions and some even predicted he would miss from the spot kick before the game.
Ozil will miss his penalty and people will pretend like he hasn't been the best player on the pitch all night.

— Mark (@_The12thMan) July 2, 2016
General mood…
https://twitter.com/AFC_Bam/status/749357563028836353
Some took a different angle on Ozil missing claiming that he was actually assisting Germany in the win by causing a butterfly effect type chain reaction which somehow resulted in his teams favour.
Ozil assisted the winning penalty by missing his. 🔙🔛🔝🔜

— Tim (@CookPassTim) July 2, 2016
Others claimed Ozil was actually just profiling the goalkeeper with an assist.
Ozil does not miss penalties

He is just assisting the goalkeeper not to concede a goal

— Emmanuel Nwachukwu (@emma_dele) July 3, 2016
And others claimed Ozil was just trying to do the right thing during the hold month of Ramadan by not hurting the goalkeepers feelings.
Ozil cant score penalties. Its Haram to hurt someones feelings.

— Assist Wizard (@ArsenalsCannon) July 2, 2016
To be fair Ozil should probably give taking penalties a miss.
HECTOR WINS IT FOR GERMANY! Worst penalty shootout ever. Ozil should never take pens for Arsenal hahaha

— MGH (@OfficialMgh) July 2, 2016
Low blow! Shots fired at Lionel Messi who quit international football after his penalty shoot out miss.
just heard Thomas Muller, Bastian, Darmian and Ozil did not announce retirement after missing the penalty. hard guys

— Kwame Idan Raul (@Kwameidan) July 3, 2016
What does that say about the Premier League?
Quite amusing that all 4 Premier League-based players who took penalties last night Ozil, Schweinsteiger, Pelle & Darmian all missed

— Ian Abrahams (Moose) (@BroadcastMoose) July 3, 2016