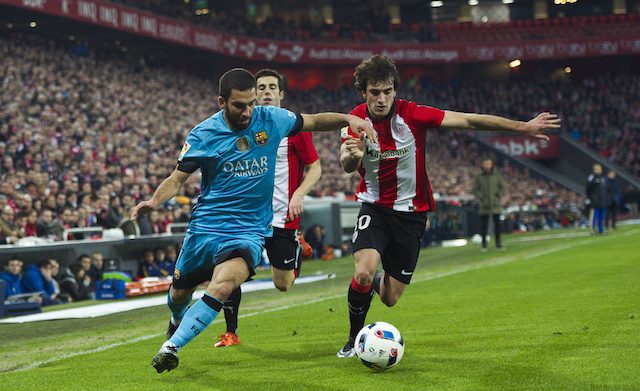 Barcelona beat Premier League champions Leicester City 4-2 in Stockholm yesterday and while the La Liga title holders did put on a fine display the performance of Foxes summer signing Ahmed Musa stole the headlines.
We took a look at how fans reacted to the game between the English and Spanish champions.
Well let's get started with this fine effort from Luis Suarez.
Suarez looking ridiculously good and surprisingly sharp in pre-season

Vaya Golazo!https://t.co/f7rCHUJLA8

— Paul Morrissey (@Paul_Morrissey) August 4, 2016
A Jason Bourne wannabe has a close encounter with Messi
Like a Messi-loving Jason Bourne… ah wait…https://t.co/GnuIhmz3oQ pic.twitter.com/VYFGFjWsRD

— AS English (@English_AS) August 3, 2016
Messi revealed after the game he was honoured to have met captain Morgan.
When messi met a legend, safe to say big wes made the right move @Wes5L1nk #nffc pic.twitter.com/Ps94gcmqHa

— Dan (@88brighty88) August 4, 2016
Is Messi human? the debate rages on
I've heard of footballers being targeted by laser pens but this looks like @DeathStarPR is going after Messi pic.twitter.com/XxZnDokZTy

— Greggles (@greg_the_gooner) August 3, 2016
Arda Turan's back! two starts in Barca's last two friendlies – both ending in victories.
He even had time for selfies
Hejsan vackra staden Stockholm… #FCBarcelona pic.twitter.com/fRo1sV8OV2

— Arda Turan (@ArdaTuran) August 3, 2016
Poor Munir scored a brace but still couldn't escape criticism
https://twitter.com/ElAficionadofcb/status/760911681765699584
https://twitter.com/ElAficionadofcb/status/760911193909362697
But the star of the show was Leicester City summer signing Ahmed Musa
Please always add 'Respekt' to Ahmed Musa's name. pic.twitter.com/jg45Bmp9S8

— 1960Bet (@1960Bet) August 4, 2016
Foxes fans after the goal
Ahmed Musa #LCFC pic.twitter.com/u1JmL3tavB

— Gary Grant (@Gary_Grant1991) August 3, 2016
Even Gary was blown away. Musa scored a brace including his brilliant solo effort and it will be interesting to see how he does alongside last seasons hero Jamie Vardy upfront.
In Musa and Vardy, @LCFC might just have the quickest pair of strikers in the history of football.

— Gary Lineker (@GaryLineker) August 3, 2016
It appears @LCFC have got another belting signing in Musa. 2 cracking goals against @FCBarcelona

— Gary Lineker (@GaryLineker) August 3, 2016