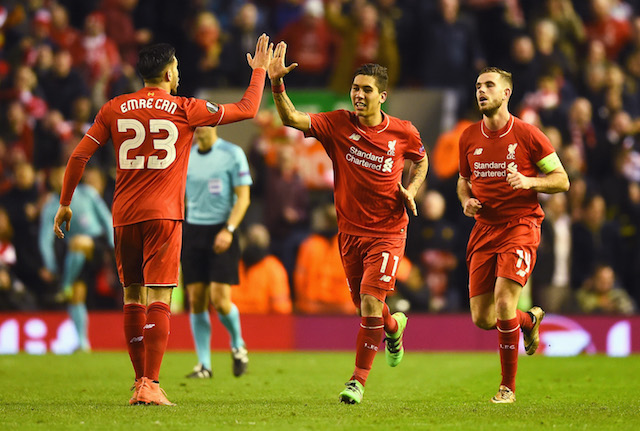 Liverpool made light work of La Liga champions Barcelona winning 4-0 at Wembley in front of 89,845 supporters.
Reds star Emre Can started against Barca and we took a look at how fans reacted to his display.
Going into the game a few rival fan accounts were teasing Liverpool about fielding players like Can and Jordan Henderson against Messi and co… well we all know who got the last laugh.
I bet the thought of Emre Can and Jordan Henderson has Messi and co trembling https://t.co/ysKXqwd26Y

— #SharkTeam (@mcfc18908) August 6, 2016
Can apparently had Messi in his pocket! not everyday you get to hear that.
https://twitter.com/jameshoolmes/status/761990691094487041
Top level banter
CAN WE PLAY YOU EVERY WEEK?? @FCBarcelona

— ⚡ (@IndoEmreCan) August 6, 2016
Can has gone from strength to strength since joining Liverpool from Bayer Leverkusen and is bound to keep his place in the team next season.
Divock Origi and Emre Can. 2 players who are going to be absolute stars in their prime.

— Lay (@LaylaT_) August 6, 2016
Ouch!
Grujic has looked naughty all preseason in fairness.

He's a future ugly Emre Can.

— Chas Walton (@ChasyAlonso) August 6, 2016
Can's display generally was very well received.
Emre Can and Sturridge are best on my list.

— Ashwin Ramesh (@AshwinR94) August 6, 2016
And now onto the important matters… Can has obviously not lost his appeal on female – and male – supporters based on his looks.
Emre can is unreal 😍😍😍😍😍

— lauren cable ✨ (@laurencable08) August 6, 2016
Yet more Emre love
No Coutinho and Emre Can are angels 😂❤️😍😩

— Jess Parry (@jessparry_) August 6, 2016
Sounds like somebody has a crush
Would just like to let everyone know how much I really fancy Emre Can.

— Jasmin Reilly (@JazReilly) August 6, 2016
It is only fitting we give the fans what they want.
You have seen it already, but you just can't beat Emre Can training to Baywatch music! 🇩🇪

Pictures: LFC, Twitter pic.twitter.com/3Qc1C3OAvX

— Empire of the Kop (@empireofthekop) August 5, 2016
Who would you pick?
Pogba vs Can https://t.co/iTRzliddO1

— JOE.co.uk (@JOE_co_uk) August 5, 2016