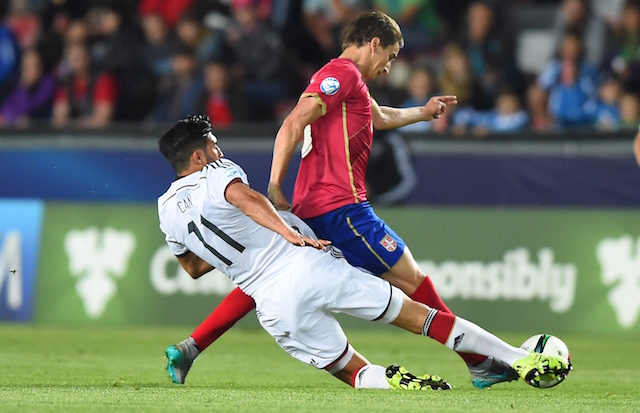 Germany beat Scotland 3-2 in a tricky Euro 2016 Group D qualifier to retain their place at the top of the table.
Liverpool midfielder Emre Can started his second consecutive game for the Germany national team – against at right-back.
The Reds youngster provided an assist and played the full 90 minutes once again.
Can made his first international cap for Germany last week against Poland which ended in a 3-1 victory to the Germans in Frankfurt.
The 21-year-old had previously played for the Germany u21 side but was eligible to represent both his country of birth – Germany – and being an ethnic Turk he could have also played for the Crescent-Stars.
Liverpool and Germany fans alike had mixed views about Can's performance on social media.
First we will start with the good. The Reds faithful really have take a liken to the player Brendan Rodgers once described as a Rolls Royce.
https://twitter.com/Taylor_YNWA/status/641106125241323520
Not everyone knows this but the Big Bang was actually Emre Can being conceived.

— Paul (@Kolology) September 8, 2015
There there was the bad. Quite a few Twitter uses were not at all pleased with Can at right-back.
https://twitter.com/rauhauser/status/640980506713133056
Emre Can't…unfortunately

— Angie Ubben (@angieubben) September 8, 2015
And then the ugly.
https://twitter.com/FootyAccums/status/640966875132899328
https://twitter.com/FootyAccums/status/640966875132899328