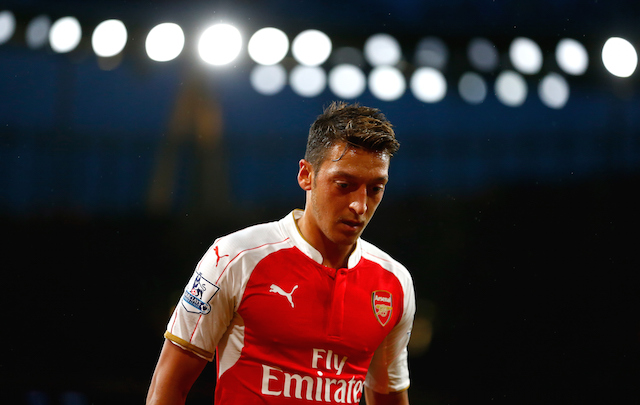 Arsenal had their six game win streak put to an end by newly promoted Middlesbrough at the Emirates today following a goalless draw.
Germany international of Turkish origin Mesut Ozil started for the Gunners but had an uncharacteristically poor game. The 28-year-old failed to create a single goal scoring opportunity but in all fairness the team as a whole struggled to find a way through a sturdy Boro defence.
We took a look at how Arsenal fans reacted to Ozil's display on social media following the game.
Quite a striking stat! We can't really remember the last time Ozil did not create a single chance in a game.
Mesut Özil and Alexis Sanchez failed to create a single chance between them against Middlesbrough.

Uncharacteristic displays. pic.twitter.com/jO66DmYtpO

— Squawka Football (@Squawka) October 22, 2016
Ozil is taking quite a lot of heat for his display today but was he really that bad?
Why didn't Mesut Ozil play today??

— Tabrejali Adam (@TabrejAdam) October 22, 2016
Not everyone was jumping on the anti-Ozil bandwagon after the game
Collymore criticising Ozil who has won the World Cup, La Liga, Cop del Rey's, FA Cup's and named German POTY 4 times. He didn't win anything

— Reus Krispies (@abdul_ozil1997) October 22, 2016
To be fair Ludogorets are Bulgarian giants and are not actually that bad.
Ozil gone all mute now that he's not playing against a bunch of Bulgarian ticket inspectors.

— ㅤㅤㅤ (@AaronMancz) October 22, 2016
Is this just typical Arsenal again? promising so much but failing to deliver when it really counts…
Arsenal fans: We're winning all our games..Theo scoring, Ozil hattrick, Kosstafi!!!

Arsenal FC: pic.twitter.com/aSyMzuEkSy

— FZ (@Fatmanotfadhumo) October 22, 2016
There are two ways of looking at this really. Either Ozil looked more impressive because he was against competition which was not of the highest level or he was tired after just playing three days ago.
Ozil got a hattrick against a bunch of nobodies and you thought it was the Ozil of Madrid. Relax.

— solly (@Sollythebaws) October 22, 2016
Now that was pretty clever!
@StanCollymore @FutbolxEv Typical Ozil. Can only perform in the big games.

— _ (@TheGoonerAFC) October 22, 2016