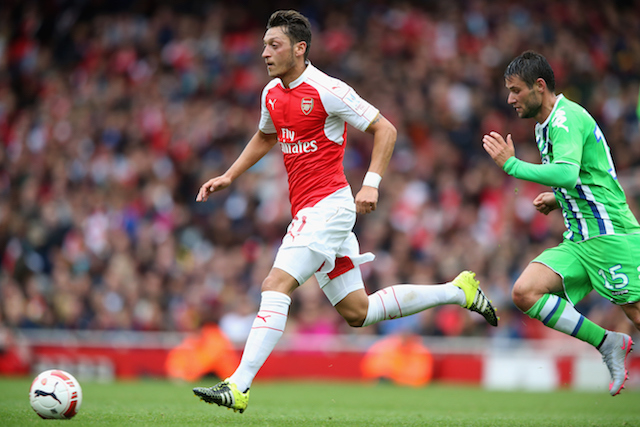 Mesut Ozil played a key role in Arsenal's 1-1 draw with their north London rival.
The 27-year-old provided the assist for the equalising goal in Arsenal's clash with their North London rivals Tottenham.
Tottenham were a goal up when Harry Kane found the back of the net in the 32nd minute.
Ozil played the full 90 minutes and set up Kieran Gibbs' goal midway though the second half.
The Gunners missed the opportunity to overtake Manchester City who drew with Aston Villa yesterday.
Arsenal won the first north London derby of the season after beating Spurs 2-1 at White Hart Lane in the third-round League Cup clash back in September. The last time Tottenham beat Arsenal away was back in 1993.
Following the game we took to Twitter to see how Mesut Ozil's performance went down with Arsenal fans.
Mesut Ozil is such an amazing player. Gosh

— O O (@otoiks) November 8, 2015
As a Tottenham fan I can easily say that anybody who doesn't think Mesut Ozil is the best player in the Premier League is wrong.

— Ciarán Martin (@Call_Me_Ciaran) November 8, 2015
Who said he was over rated? 'Mesut Ozil breaks Premier League assist record against Tottenham'https://t.co/ZYZsKDF3F3 via @SkySports

— Steven Parkhill (@PARKY_92) November 8, 2015
10.5 – Mesut Ozil covered more ground (10.5 km) than any other Arsenal player against Tottenham. Energy.

— OptaJoe (@OptaJoe) November 8, 2015
I think we can all conclude that Mesut Ozil is UNBELIEVABLY AMAZING.

— Weffrey Jellington (@jeffwellz) November 8, 2015
Mesut Ozil today: 7 chances created 1 assist 44 passes completed (game's top passer) #DoesntDoItInTheBigGames

— Just Football (@JustFootball) November 8, 2015
Mesut Ozil is amazing.

— Arsenal Related (@ArsenalsRelated) November 8, 2015
See More
Arsenal boss Arsene Wenger is happy with Mesut Ozil says agent
Man Utd legend David Beckham is Barcelona star Arda Turan's role model