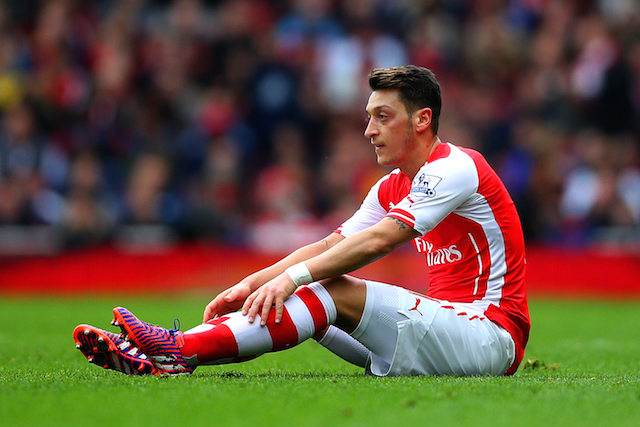 Arsenal were defeated 5-1 by Bayern Munich at the Football Arena Munchen in the Champions League yesterday evening.
The Polish international striker Robert Lewandowski opened the scoring after just ten minutes.
The Gunners thought they had equalised just minutes later when Özil put the ball in the back of the net but it was ruled out by the fifth official for handball.
Muller doubled the home sides lead on 29 minutes and Alaba gave Bayern a comfortable 3-0 lead going into the half time break.
Second half substitute Arjen Robben scored the fourth soon after the half
The defeat saw Arsenal drop into last place in the group and will have to beat Olympiakos in Greece if they are to stand any chance of progressing to the next stage.
Following the game we took to Twitter to see how Mesut Ozil's performance went down with Arsenal fans.
This season Mesut Ozil is world class & if you know about football you will realise

— LordT (@TomOverfield08) November 4, 2015
There's only oneeee mesut ozil, oneeee mesut ozil, assisting everyone, were glad that u come, walking in a ozils wonderland

— #YaGunnersYa (@GoonerNews0) November 4, 2015
We're extremely lucky to have mesut ozil he's pure class #Arsenal

— John Kirby (@Kirbyjp) November 4, 2015
Mesut Ozil was on another level tonight, shame he never had the players around him on that same level. #Genius

— Liam (@Liam2712) November 4, 2015
Meanwhile,Mesut Ozil over your best player,any day.

— Mr Folarin (@iamfotography18) November 4, 2015
https://twitter.com/RaulAyala97/status/662019508442406912
See More
Arsenal boss Arsene Wenger is happy with Mesut Ozil says agent
Man Utd legend David Beckham is Barcelona star Arda Turan's role model