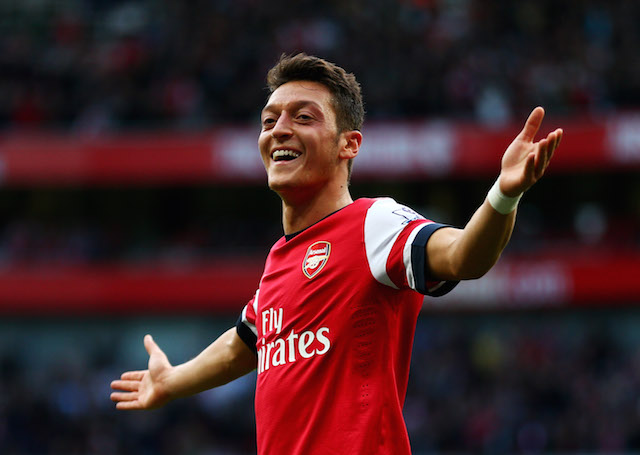 Mesut Özil was one of the stars of the show during Arsenal's 3-0 victory over Dinamo Zagreb in the UEFA Champions League.
The playmaker got himself onto the scoresheet when he scored Arsenal's opener in the 29th minute. The Gunners were two up going into the break following Alexis Sanchez goal.
The Chilean scored his second and the games last goal in the second half. Özil had chances to double his tally and came close to doing so towards the end of the game.
The 27-year-old made four key passes, three shots on target and three accurate crosses. Özil has scored in some of the Gunners most important goals this season netting against Manchester United and Bayern Munich.
Arsenal go into the groups final game needing a win over Olympiakos. The Gunners need to beat the Greek Super League side by two goals if they are to qualify to the Last 16.
Following the game we took to social media to see how Ozil's performance went down with fans.
Mesut Ozil has put in one of the best individual performances you'll see from a midfielder this season. Again.

— ODDSbible (@ODDSbible) November 24, 2015
Alexis Sanchez and Mesut Ozil are different class, thank god they play for Arsenal.

— Arsenal News (@__arsenalnews_) November 24, 2015
Mesut Ozil does not make a wrong pass, the intended recipient can only be in the wrong place

— Black Stallion (@antonio_zimo) November 24, 2015
Currently, the combination of Mesut Ozil and Alexis Sanchez in full flow is as good as you'll see from an English team.

— Neil Williams (@NeilW23) November 24, 2015
Mesut Ozil when he is in form the way he is now, he's one of the best midfielders ever…so freaking good!

— wicki_23 (@JacobKulwicki) November 24, 2015
It's a pleasure to watch Mesut Ozil and Alexis Sanchez. Haters will hate.

— khen adebowale (@Khen8701) November 24, 2015