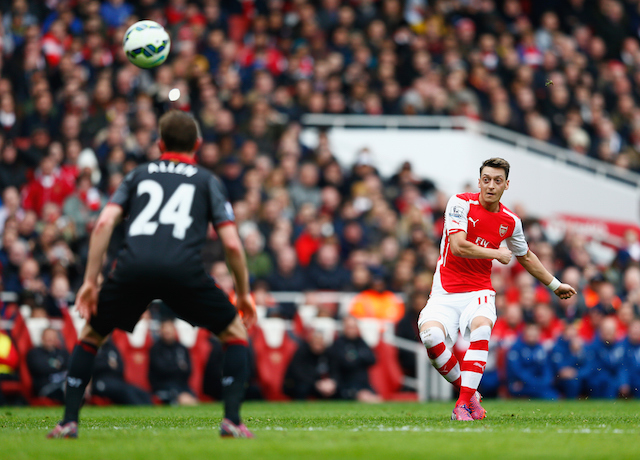 Mesut Özil provided his 13th assist in 15 Premier League games during Arsenal's win over Aston Villa yesterday afternoon.
The Gunners moved up to first place in the league following a 2-0 win over Villa.
Özil played a staring role in the victory and received a rating of 7.5 from WhoScored.
Olivier Giroud scored the North London based sides opening goal in Arsenal's 2-0 win over Aston Villa. Özil set-up Aaron Ramsey's strike which doubled his sides lead.
Özil is has won the Arsenal Vitality Player of the Month award for the past two consecutive months and has 13 assist in 15 Premier League games this season.
According to Wayne Veysey of Footballinsider247, the new deal would see his wage increase from £50,000-a-week to £180,000-a-week and make him the best-paid player in the Gunners history.
Following the game we took to social media to see how Ozil's performance went down with fans.
https://twitter.com/TayoAFC/status/676062914026020864
Arsenal's 'Mr Assist' Mesut Ozil @MesutOzil1088.

— @Ericko_ndegwa (@Hunteraar) December 13, 2015
Solid win. clean sheet. Top of the league. Mesut Ozil assist.

— jamieAFCvilliers (@jamievilliers) December 13, 2015
3 things in life for certain :-

1. Death
2. Taxes
3. Mesut Ozil's assist.

— Rajat Dnyate (@rajat_dnyate) December 13, 2015
Mesut Ozil is the second coming of Jesus

— Josh Challies (@Challies11) December 13, 2015
Mesut Ozil: 13 assists in 14 games.

David Moyes: "The jury is still out on Ozil" pic.twitter.com/3LF7HinATn

— COPA90 (@COPA90) December 13, 2015
If Mesut Ozil were to be a waiter his service would be impeccable #ARSAVL #Arsenal #BPL

— Kofi Apaa (@KofiApaa) December 13, 2015