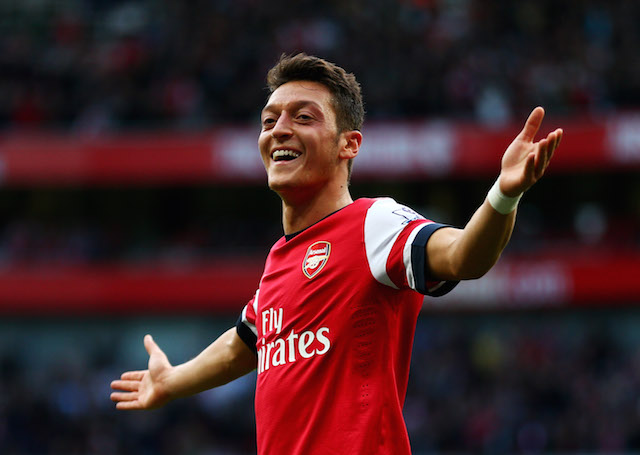 Mesut Ozil was one of the stars of the show in Arsenal's crucial UEFA Champions League win over Olympiacos last night.
Arsenal needed to win the game by two goals and ended up recording a 3-0 victory.
Ozil played a key role in the Gunner's first goal by providing the pass which unlocked the Greek champions defence allowing Ramsey to provide the assist for Giroud.
The powerful striker netted his first hat-trick for Arsenal bringing his goal tally of the season up to 13.
The north London based side take on Aston Villa in the Premier League this weekend. Arsenal sit in second place behind Leicester City with 30 points in 15 games.
Arsenal manager Arsene Wenger decided to keep Mesut Özil in starting line-up despite a injury scare shortly before kick-off. Theo Walcott who also recently recovered from injury was included in the starting eleven.
Following the game we took to social media to see how Ozil's performance went down with fans.
Mesut Ozil is a magician!!!!! That ball to the wing!!!! #AFC

— Arsenal Mania (@arsenalmania) December 9, 2015
Mesut Ozil could unlock my front door with a pass the way he's playing!

— Scott Loach (@S1goalkeeping) December 9, 2015
Mesut Ozil could probably pass Abou Diaby's medical

— Junaid Amin (@junaidamin14) December 9, 2015
Mesut Ozil could find a missing person with a pass at the moment

— SBizzle (@stuiebull) December 9, 2015
Mesut Ozil, can spot anything with a pass, even another planet with life.

— New Signing (@PaxArtetaGervis) December 9, 2015
Mesut Ozil can pass the blame from Oscar Pistorius…

— Dominic Black (@DomB293) December 9, 2015
If anyone I love ever goes missing I'm calling Mesut Ozil, that guy could find anything with a pass

— Liam P Smith (@liampsmith91) December 9, 2015
See More
5 little-known facts about Barcelona star Arda Turan
Galatasaray set to make bid for Chelsea star Diego Costa