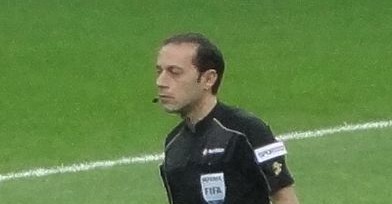 Fenerbahce have edge in games officiated by Cuneyt Cakir
[divider]
Cüneyt Çakır will officiate the Intercontinental derby between Fenerbahçe and Galatasaray.
The experienced referee has officiated eight derbies in the past. Galatasaray have won three times with Çakır in charge while Fenerbahçe have recorded four victories and one game ended in a draw.
See More
Cuneyt Cakir ranked 8th best referee in the world
Cüneyt Çakır leaves hospital
Cüneyt Çakır receives rave reviews from Italian press
Çakır has been involved in a few controversial derbies including the 2008 match up where he sent off three Fenerbahçe players and in 2012 he was strangled on the field by Galatasaray midfielder Engin Baytar.
The 37-year-old is the most experienced Turkish referee at International and European level.
Çakır became the first Turkish referee in 40 years to officiate at a World Cup this summer, following in the footsteps of Doğan Babacan who was assigned to officiate the 1974 World Cup.
The experienced referee has experience officiating important Champions League and World Cup games.
The Turkish referee averages 4.03 yellow cards per game, 0.19 red cards per game and 0.2 penalties per game.