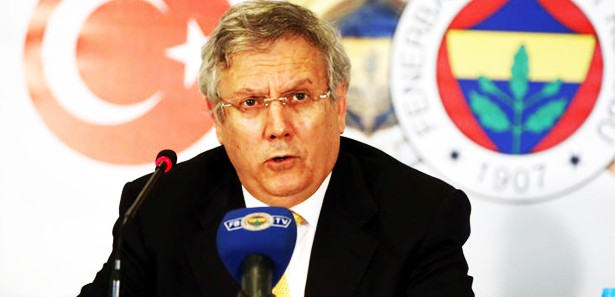 Prosecutor Abdullah Mirza Coşkun has demanded the acquittal of Fenerbahçe president Aziz Yıldırım as well as several high-profile suspects including Abdullah Başak, Ahmet Çelebi and İlhan Yüksel Ekşioğlu in the match-fixing trial.
Coşkun wants an aquittal on charges of "founding a terrorist organization" and "match-fixing." The judge decided to postpone the case until October 9 when a final decision is expected to be made.
The match-fixing case surrounds Fenerbahçe's 2010-2011 season league title, in which the Yellow Canaries beat Trabzonspor to the championship on goal difference.
Fenerbahçe president Aziz Yıldırım, along with fellow Fenerbahçe officials İlhan Ekşioğlu, Şekip Mosturoğlu, Tamer Yelkovan and Cemil Turan were charged with match fixing and trying to influence the outcome of games.
The match-fixing probe was originally launched by Zekeriya Öz back in 2011 – who was involved in the December 2013 graft investigation targeting key government members. The prosecutor has since been purged as part of the incumbent governments attempts to clamp down on sympathizers of U.S.-based Islamic scholar Fethullah Gülen.
The suspects were unable to file an appeal until the Specially Authorized Courts, which oversaw the match-fixing trial were abolished in March 2013.
Fenerbahçe missed two years of European football and damage to reputation resulting in significant financial losses which the club will ask compensation for if charges are dropped a source close to the club told Turkish-football.com.
The Yellow Canaries questioned the legitimacy of the trial and released a statement calling for charges to be dropped at the time of the retrial.
The statement read:
[box type="shadow" ]As of 17.12.2013, in TURKEY;
The dismissals at the police department led to the reappointment of more than six thousand policemen, hundreds of which are in senior positions. Nearly two thousand judges and public prosecutors were taken off their cases.
Public Prosecutor Zekeriya Öz, who pushed for the match-fixing investigation, and Public Prosecutor Mehmet Berk, who executed it, were taken off their cases and reappointed to other posts. Director of Organized Crime Division at Istanbul, Nazmi Ardıç, who was found to engage in numerous illegal phone-tapping operations, including those concerning the match-fixing investigation, was removed… Former Deputy Director of Istanbul Police Department, Mutlu Ekizoğlu, who issued the order in the match-fixing operation was dismissed.
As Fenerbahçe Sports Club, we announced that the "alleged match-fixing" operation executed by these dismissed and disqualified persons was based on no concrete evidence other than inadmissible documents, voice and communication records, and police reports obtained through illegal means, and denied by the parties, that the operation had been a clear violation of fair trial and natural justice principles, let alone the European Convention of Human Rights (ECHR), and that therefore, we do not recognize the rulings reached on the basis of such evidence, by courts with special jurisdiction.
In all trials in Turkey, UEFA Disciplinary Board, UEFA Arbitration Board, and CAS, we were tried on the basis of the police's summary of proceedings filled with lies and defamation.[/box]