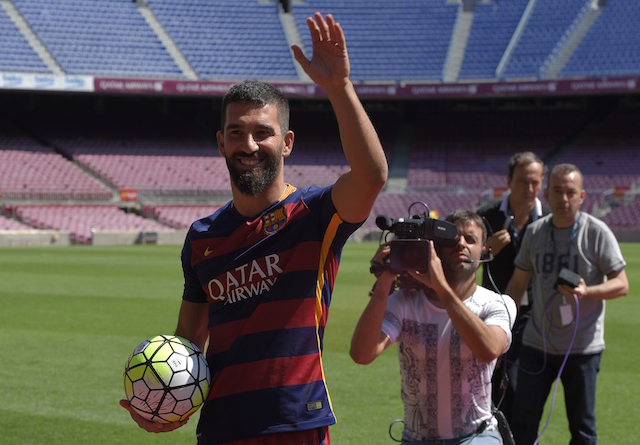 Former Barcelona director Toni Friexa stated that FIFA cannot prevent Barcelona from registering Arda Turan with immediate effect.
Freixa underlined that there is nothing stopping Barcelona from replacing Turan with Rafinha under the current regulations.
Barcelona hope to be able to unregister Rafinha who is out injured for the forseeable future for the Turkish international who missed registration during the last transfer window due to the reigning La Liga champions serving a transfer ban.
The Champions League title holders feel they are within their right to replace Rafinha with Turan as they have served the transfer ban and the Spanish Football Federation clearly states that a player with a long-term injury can be replaced with an unregistered player.
Freixa was quoted by Sport as saying: "I don't think it is anything for FIFA to complaing about, because they don't have any jurisdiction in this case. It is as simple as starting proceedings with the LFP [to register Turan] and getting a medical tribunal to rule if Rafinha's injury is 'long-term' or not."
The former director stated that Barcelona do not have to even consult FIFA as it is a domestic matter for the Spanish Federation to decide.
"They've not done this and I don't understand it. As of now, Barcelona should go to the Spanish Ferderation to get the license and if not, then to the Spanish Sports Council, because Miguel Cardenal has already said he would assist Barça. There's no need to wait for FIFA or to go to the CAS, who will not resolve it before January," he added.
Turan is currently on international duty with Turkey ahead of critical Euro 2016 Group A games against Czech Republic and Iceland. If Barcelona get the go ahead from the Spanish Federation the bearded winger could be playing club football within a fortnight.
See More
Arsenal boss Arsene Wenger is happy with Mesut Ozil says agent
Man Utd legend David Beckham is Barcelona star Arda Turan's role model