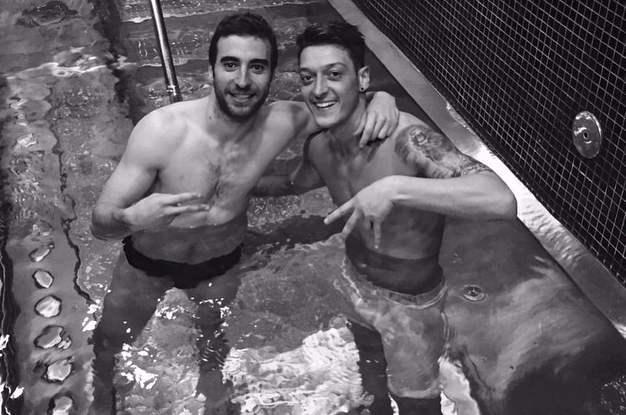 Mesut Özil and Flamini have one of the closest bromances in the Premier League.
The bond is so strong that Özil declared Flamini to be his favourite to pick up the 2015 Ballon D'or award.
The World Cup winner was of course joking – or was he?
Is #Flamini nominated? 😉 https://t.co/lPaTDFyt58

— Mesut Özil (@MesutOzil1088) January 8, 2016
Barcelona star Lionel Messi is of course the actual favourite to be selected as the best player in the world of 2015 but Özil had an answer for that as well. According to the World Cup winner Flamini is better than both Cristiano Ronaldo and Messi himself.
Flamini!!! 😉👍😅 #AskMesut https://t.co/xfMN0AeQdW

— Mesut Özil (@MesutOzil1088) January 8, 2016
Özil has a close relationship with Flamini. In-fact Theo Walcott described the special bond the two players have as being 'Flamzil' and went as far to say: "They go to the gym together, have massaged together I wouldn't be surprised if they even share a house together."
Özil posted five pictures on his Instagram account posing with the Frenchman on his Instagram in the month of April alone and Flamini has also admitted having a special relationship with the World Cup winner.
See More
Barcelona Player Profile: Arda Turan – The Bearded Genius
Three reasons Arda Turan could be a success at Barcelona