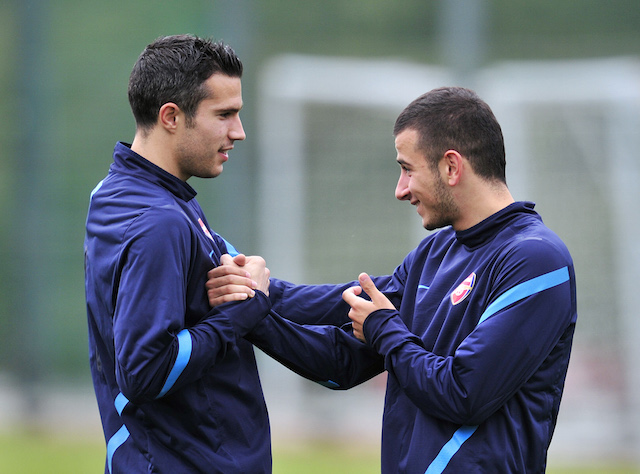 Turkish Super League leaders Fenerbahçe take on rivals Beşiktaş in the first major Istanbul derby of the season on Sunday 27 September.
The derby will see former Arsenal teammates Oğuzhan Özyakup and Robin van Persie go head-to-head.
Özyakup told the Sabah newspaper: "Van Persie has been my friend for a long, long time and we remain close."
The Beşiktaş star does however, believe his side will be able to beat Van Persie's Fenerbahçe in the derby.
"I told Van Persie we are well prepared and that we are favourites but at the end of the day it is important that friendship wins at the end of the day," he added.
Özyakup was ruled out of the 1-1 draw against Gençlerbirliği due to injury but is expected to return in time for the derby.
The Turkish international joined Beşiktaş from Arsenal in 2012 for a fee of €500,000 and established a close bond with Van Persie who took the youngster under his wing during his time at the North London based club.
Özyakup was actually born in Holland and captained the Dutch side to the final of the 2009 Under-17 European Championships before switching allegiances to the Turkish national team.
"To be honest it is mostly Robin [who I look up to] because he is Dutch and he really looks after me outside of football as well," Ozyakup told Arsenal.com in 2011.
"There are more off-field things as well and I am really, really happy he looks after me like this. I never expected him to help me that much but I am really thankful that he does that for me.
"Obviously on his Twitter feed he says little things like congratulations – it is those little things he does that are perfect and what I look up to."
Van Persie joined Fenerbahçe from Manchester United on a three-year deal over the summer transfer window.
See More
Three little-known facts about Arda Turan
Barcelona star Arda Turan reveals wearing 'Cruyff' inspired No 14 shirt