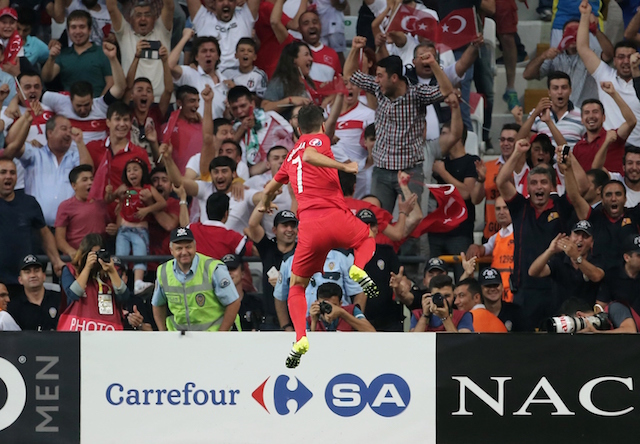 Beşiktaş midfielder Oğuzhan Özyakup scored his first international goal for Turkey in the 3-0 win over the Netherlands at the Konya Torku Arena.
Turkey won the Euro 2016 Group A tie to overtake the Netherlands and move into third place.
Özyakup scored the opening goal with a well time finish to put Turkey ahead against his country of birth – and the side he captained at u-21 level.
The 22-year-old midfielder pulled the strings in midfielder and made the most touches for Turkey (49) over the course of the game.
The former Arsenal man has had an impressive start to the season providing four assists and scoring twice.
Turkey will enter the playoffs for Euro 2016 if they manage to secure four points from their remaining two-games against Iceland and the Czech Republic.
Following the game Özyakup said: "I scored my first goal for Turkey against the country I was born in. That's football."
Özyakup also thanked the fans that turned out to in their droves to fill the Konya Torku Arena.
"I want to thank the fans, you saw them today but that is not all. They were there by our side at the airport, at our hotel at training they were everywhere and gave us the confidence and self-belief to go and win," he added.
Özyakup rose through the Arsenal youth ranks before joining Beşiktaş in 2012 for a fee of €500,000 in search of first team football.