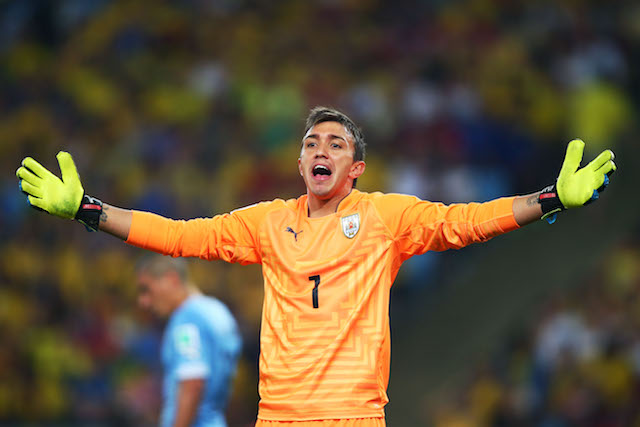 Galatasaray are preparing to receive a bid for their goalkeeper Fernando Muslera after Manchester United's David de Gea stated that he does not want to play against Aston Villa tonight.
"We talked with him [De Gea] and he fully agreed with our decision," Van Gaal told reporters (via Goal).
"I have one assistant coach and another assistant coach so we speak about that kind of thing together. We have a goalkeeping coach, Frans Hoek, and I'm not doing everything alone.
"Frans Hoek… he has a meeting with David de Gea and he asked him: 'Do you want to play?' [De Gea said "No"]. Then I have to take the decision. It is a process.
"We had been observing him in preparation, he was not so good, he was not the same David de Gea as before. He was my best player last season. According to the fans, he was the best of the last two years."
United have set aside £25 million for Muslera according to the Turkish news agency DHA.
The report states that United will sign another keeper if De Gea joins Real Madrid this summer. Muslera is understood to be the Red Devil's first choice replacement keeper.
Muslera played a key role in Galatasaray winning the league for a record 20th time last season and earning the right to wear a fourth star.
The 29-year-old played a key role in Galatasaray's Turkish Super Cup win over Bursaspor last week. Muslera has won three league titles at the Lions and also the Copa America with Uruguay.
See More
Three little-known facts about Arda Turan
Barcelona star Arda Turan reveals wearing 'Cruyff' inspired No 14 shirt