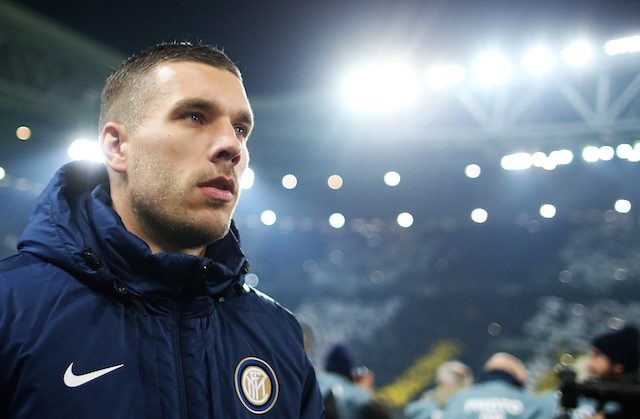 Arsenal striker Lukas Podolski has revealed that he wants to fight for his place in the team.
Podolski admitted that joining Inter on loan was a mistake but he still believes he has the right qualities to make the Arsenal team.
The Germany international stated that he feels more comfortable with the English game as opposed to the Serie A.
"I've always felt comfortable there. With the fans, with the team and also with the manager. I'm going back to play, I have to say my qualities suit Arsenal," Podolski was quoted as saying in the Guardian.
"Inter? Last season went how it went. English football is the one which best suits my style but I know how suddenly everything can change.
"I have characteristics to help different teams but it was a mistake to go to Inter with no redemption clauses."
See More:
Three reasons why Fenerbahce should target Arsenal keeper Ospina
Arsenal legend Paul Merson has hit out at Mesut Özil's critics
Podolski underlined that he has put last season behind him and that he will look to the future now.
"In football there are times when everything doesn't work out for the best. You're not always playing as a starter and you just have to accept the decisions and work on your own game. That's what I did but now I'm looking forward," he added.
The Germany international also recently released a statement confirming that he would consider a move to Turkey as well.
The World Cup winner told NTV Sport: "If an offer comes from Turkey, I will sit down and talk about it with my family and girlfriend.
"If I find the right club, the right coach, the right environment, I will evaluate it.
"If these conditions are met, I think everything is possible.
"The next transfer could be my last, so I have to take a well-thought step."
Galatasaray have been closely linked with the World Cup winner and have made Arsenal an offer according to the Metro.