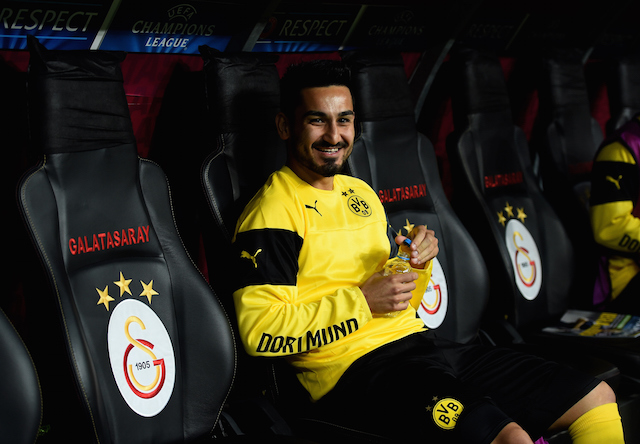 Manchester City beat Steaua Bucharest 5-0 in what was their biggest ever Champions League victory in Romania on Tuesday.
Summer signing Ilkay Gundogan did not play due to injury but he was on hand to give us a running commentary of the game with a series of tweets.
Gundogan kicked off the evening with an encouraging message for his teammates.
COME ON CITY!!! ⚽🙏🙏 Let's take the first step! #steauavcity #UCLplayoff @ManCity @ChampionsLeague

— Ilkay Gündogan (@Guendogan8) August 16, 2016
Then the goals started pouring in.
Gooooooooal!!!! ⚽👍👍👍👍 #steauavmancity

— Ilkay Gündogan (@Guendogan8) August 16, 2016
He was delighted with the second goal and even pulled out his emoji guns out.
Yeeeees!!!!! 💪💪 #steauavcity 0:2 @ManCity

— Ilkay Gündogan (@Guendogan8) August 16, 2016
That is where the commentary ended unfortunately. Gundogan was not on deck for the last three goals or Kun Aguero missing not one but two penalties.
FINALLY Sergio Aguero scores for #MCFC!

Here are his two earlier penalty misses… https://t.co/GMOclxrUOP (via @btsportfootball)

— Eurosport UK (@Eurosport_UK) August 16, 2016
Aguero did however, end the night as a hero with a hat-trick in what turned out to be a memorable victory.
Gundogan did manage to return for a match summary after the game where he praised is team-mates and gave the boys a round of applause.
That was brilliant … 🙌🏽🙌🏽 Really strong performance lads!! 👏🏽👏🏽 #UCLplayoff #steauavcity #ManCity @ChampionsLeague

— Ilkay Gündogan (@Guendogan8) August 16, 2016
See More
How to pronounce Man City signing Ilkay Gundogan