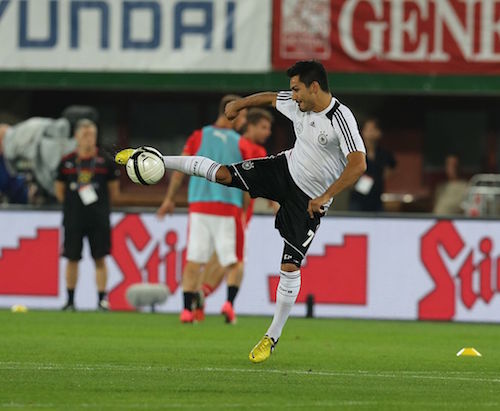 Ilkay Gündoğan feels 'reborn' after being recalled to the German national team
[divider]
Ilkay Gündoğan has stated that he feels like he has been reborn after being recalled to the Germany national team. The 24-year-old has not featured for Germany since August 2013.
The Borussia Dortmund midfielder has been been sidelined with long-term injury, but have shown promising signs since making a comeback this season.
Gündoğan spoke with reporters at a pre-match press conference ahead of Germany's friendly with Australia in a friendly in Kaiserslautern on Wednesday.
"I'm delighted to have been recalled," Gündoğan told reporters.
"It's not easy when you're out of the game for so long, but it's still a cross-section of your life that you can reflect on and take something from.
"My injury did help in some ways – I was able to see a lot of things from a fresh perspective. Now I feel like I'm reborn."
See More:
Arsenal News
3 reasons why Arsenal should sign Gundogan
3 reasons why Manchester United should sign Ilkay Gündoğan
Manchester United prepare €28 million bid for Ilkay Gündoğan
The hard working midfielder was one of the central figures of the Dortmund side that reached the final of the UEFA Champions League in the 2012-13 season.
Germany take on Georgia in a Euro 2016 qualification clash on Sunday.
Gündoğan has four assists and two goals in 23 appearances for Dortmund this season.