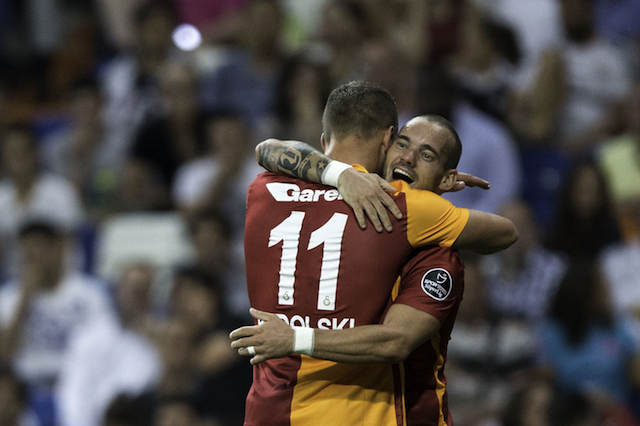 Chelsea boss Jose Mourinho revealed that Galatasaray star Wesley Sneijder and Deco were the best number 10's he has ever worked with.
Mourinho stated that he rates Sneijder and Deco highly because they have defensive strengths as well as their ability to create and score in the final third.
The Portuguese coach underlined that he demands his number 10's are assiduous and put in defensive work.
"For me a number 10 does a lot of things, with the ball and without the ball. So for me a number 10 is a very special player in my team," Mourinho was quoted as saying in the Telegraph.
"With a system of two midfield players and one number 10, I demand a lot from a number 10.
"I like a number 10 to score goals. I like a number 10 to get in the box. I like a number 10 to score goals like Oscar's against Maccabi Tel Aviv.
"A number 10 for me is an eight-and-a-half when the team loses the ball, and the number 10 is a nine-and-a-half when the team has the ball.
"Who is my perfect number 10? Wesley Sneijder and Deco. Because they could defend, get in the box and finish goals? Yes."
Mourinho's recent comments have rekindled rumours linking Chelsea with making a move for Sneijder.
Fanatik report that the Blues are plotting a move for Sneijder who had his most successful period under the stewardship of Mourinho.
The experienced playmaker did of course play under the stewardship of Mourinho while at Inter Milan where the duo lifted the UEFA Champions League and Serie A under the Portuguese manager.
The Netherlands international does however, still have three years remaining on his contract and is reported to be happy in Istanbul.
See More
Four reasons why Liverpool star Emre Can will succeed under Jurgen Klopp