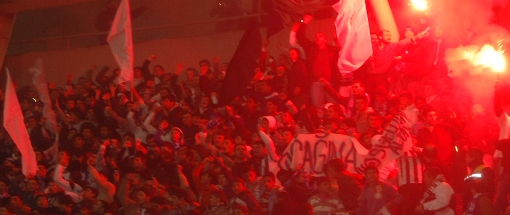 Kasımpaşa 1 – 1 Trabzonspor – Scarione rescues a point for Kasimpasa
[divider]
Kasimpasa rescued a point at home following a late goal from Scarione in a 1-1 draw with Trabzonspor.
The Istanbul based side are still however without a victory in their last five games and remain in 10th place in the league.
Trabzonspor have drawn their fifth game in a row away from home and remain in 6th place in the league.
The Black Sea storm take on Karabukspor next weekend.
Stadium: Kasımpaşa Recep Tayyip Erdoğan
Referee: Cüneyt Çakır, Alpaslan Dedeş, Gökmen Olgaç
See More
Trabzonspor news
Benitez received an offer from Besiktas before joining Liverpool
Gokhan Inler has been gathering intelligence on Trabzonspor says Benitez
Kasımpaşa: Ertaç Özbir, Orhan Şam, Donk, Dvali, Sancak Kaplan (.86 Ferhat Kiraz), Tunay Torun (.67 İbrahim Halil Çolak), Castro, Alpaslan Öztürk, Babel, Adem Büyük, Malki (.85 Scarione)
Trabzonspor: Hakan Arıkan, Bosingwa, Aykut Demir, Medjani, İshak Doğan, Deniz Yılmaz (.60 Fatih Atik), Aytaç Kara, Mehmet Ekici, Constant (.86 Uğur Demirok), Erkan Zengin, Cardozo
Goals: .45+2 Mehmet Ekici (Trabzonspor), .90 Scarione (Kasımpaşa)
Yellow Cards: .24 Deniz Yılmaz, .73 Medjani (Trabzonspor), .42 Babel, .48 Malki (Kasımpaşa)