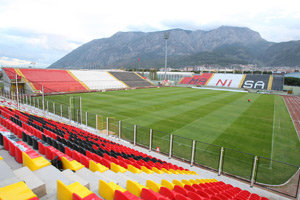 Keciorengucu 1 – 2 Manisaspor – Manisaspor win on the road
[divider]
Manisaspor moved into second place in Group B with a 2-1 victory over Keciorengucu in the Ziraat Turkish Cup. The Tarzanlar have qualified to the next round of the cup after picking up seven points in six games.
The away side had to come from behind after conceding a 25th minute goal to Coban. Alyel and Kupeli fired the visitors ahead in the 53rd and 57th minute.
Keciorengucu have finished the group in third place with six place.
Stadium: Aktepe
Referees: Volkan Bayarslan, Alpaslan Dedeş, Arkın Akgöl
Keçiörengücü: Ulaş Güler, Mehmet Yılmaz, Hüseyin Güngör, Onur Nasuhoğulları, Sinan Morgil, Mustafa Kayabaşı (.81 Doğan Karakuş), Serdar Ümit Deniz (.62 Abdurrahman Emir Alagöz), Ferit Erişçi, Efe Can Çölbekler, Engin Güngör (.59 Özkan Toprak), Arif Çoban
Manisaspor: Umut Kaya, Gafurov, Erdi Öner, Ümit Yasin Arslan, Hüsnü Başkurt, Sefa Küpeli, Metin Yüksel, Dimitrov (.89 Ali Fırat Okur), Yusuf Akyel (.74 Hakan Barış), Gökhan Sazdağı (.84 Melik Yeğin), Subasic
Goals: .25 Arif Çoban (Keçiörengücü), .52 Yusuf Akyel, .56 Sefa Küpeli (Manisaspor)
Yellow Cards: .22 Ferit Erişçi, .65 Sinan Morgil, .79 Hüseyin Güngör (Keçiörengücü), .37 Metin Yüksel, .65 Gafurov, .79 Hakan Barış, .90+5 Melik Yeğin (Manisaspor)