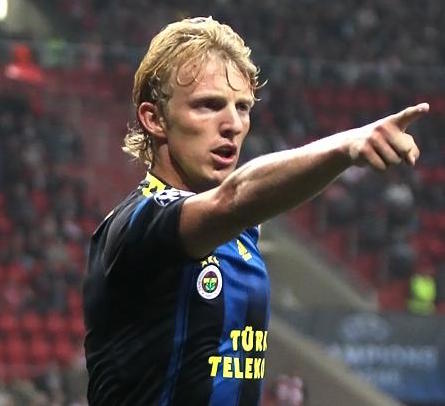 Kuyt delighted to playing 'one more time at Anfield' ahead of Liverpool friendly [divider]
Fenerbahçe winger Dirk Kuyt revealed that he was delighted that Liverpool FC invited him to the March 29 charity game.
Kuyt admitted that he never expected that he would return to Liverpool as a player and that he is looking forward to the experience.
"It's just a very positive feeling because you never expect these kinds of things to come back," Kuyt told the official Liverpool website.
The 34-year-old underlined that he lived unforgettable moments at Liverpool and that he will always remember the special games and moments.
"When I closed the door behind me after six years at Liverpool, you'll never forget the memories you had – the Champions League nights, the special days at Anfield," he added.
"You never forget them. But you never expect to go back and play one more time at Anfield – and on such a special occasion."
See More:
Fenerbahce News
Fenerbahce unable to meet £8m asking price for Swansea striker
Kuyt will join the former Liverpool stars Luis Suarez, Fernando Torres and Xabi Alonso, Pepe Reina at the charity game.
The 34-year-old scored 71 goals in 285 matches for Liverpool and played in the the 2006-07 Champions League final, was runner up in the 2008-09 Premier League title race and won the 2011-12 League Cup with the Reds.
The former Netherlands international also has his own charity, the Kuyt Foundation.
Kuyt and his wife set up the charity in 2006, which helps change the lives of children. The foundation specialises in providing sports sessions for disabled children.