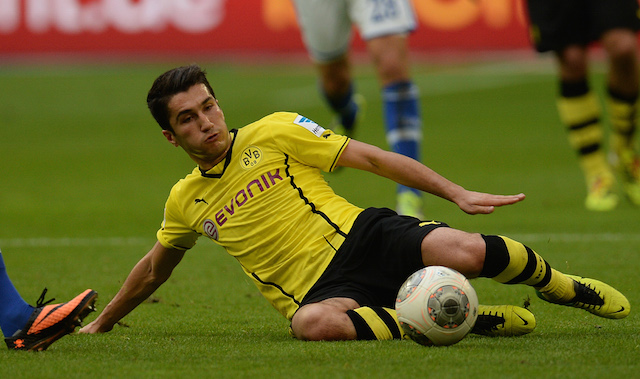 Liverpool manager Jurgen Klopp is planning a reunion with Borussia Dortmund midfielder Nuri Sahin according to AMK.
The report claims that Klopp is keen on bringing Sahin to Liverpool over the summer transfer window.
Sahin is of course no stranger to Liverpool having enjoyed a brief six-month stint on loan from Real Madrid in 2012 – during the Brendan Rodgers era.
The central midfielder struggled to settle in under Rogers and complained about being played out of position – something Klopp also echoed soon after.
The Turkish international returned to Dortmund afterwards – under the stewardship of Klopp at the time.
Sahin thrived under Klopp at Dortmund, earning him a move to Real Madrid then Liverpool. Klopp later re-signed Sahin to the Bundesliga giants.
"We have worked together for seven, eight years," Sahin told Sport1.
"That he knows us is beyond question. We know him well. We all have a great relationship with Klopp. That will not suffer in these two games."
Sahin became one of Klopp's favourites at Dortmund and the German manager is largely credited with unearthing his talent.
The Dortmund midfielder missed most of the season due to injury but has since made a full recovery.
Klopp is expected to send scouts to keep tabs on Sahin over Euro 2016. The experienced midfielder still has another two-years left on his contract.
The 27-year-old has been called up to the 23-man Turkey squad ahead of Euro 2016 and is currently with the national team preparing for the summer tournament.
See More
Nuri Sahin delighted to be back at Anfield ahead of Liverpool clash