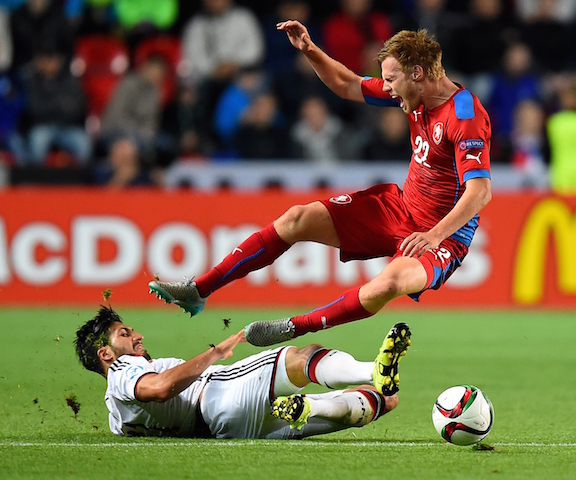 Germany take on Slovakia in their Euro 2016 Last 16 clash but Liverpool star Emre Can has been left on the bench again.
We took to social media to take a look at how Liverpool fans reacted on social media to the young midfielder being dropped again.
Liverpool fans are not at all pleased that Can has not yet featured.
https://twitter.com/MerseysideFisch/status/747081974691528704
Can has not started a single game in fact he has not played a single minute of football over the entire European Championships.
I am shocked that Emre Can hasn't played a minute yet

— Sam 👻🎃 (@lowerthansam182) June 26, 2016
Can has only been involved in training sessions for Germany and that has not gone down well at all with the Reds faithful.
Lol but Emre Can hasn't even touched ball in Euros expect in training sessions but what's my own 😴😴🚶🏾

— Kola (@ksekoni_) June 26, 2016
Irony?
https://twitter.com/stuffIfc/status/747079538610409472
We have grown accustomed to seeing Can's name on the bench. Will he finally get to make his debut appearance in a major tournament tonight?
Emre Can still on the bench. #GER vs #SVK

— #TotallyReds (@TotallyReds) June 26, 2016
Can has never featured in a major tournament before and at this rate he may have to wait another two years to get his chance unless Joachim Low has a change of heart.
When will Emre Can ever play ?

— Matt. (@prince_smartz) June 26, 2016
Low's decision not to play Can has even turned some fans against Germany.
emre can still hasn't played a min yet so i can keep hating germany

— lily (@kingslayering) June 26, 2016