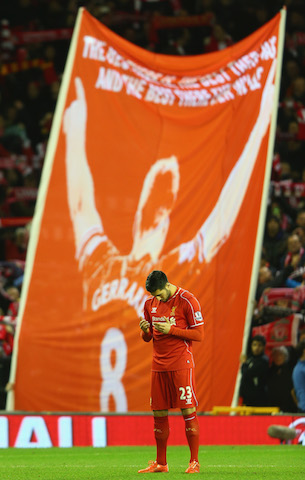 Liverpool drew 0-0 against Augsburg in the Europa League Round of 32 first-leg clash in Germany yesterday.
As the scoreline suggests it was not exactly the most entertaining game to have ever been played but Emre Can did start and we thought we would take a look at what was made of his performance on social media.
Can had scored in both his last Bundesliga games against Augsburg before his move to Liverpool while playing for Bayer Leverkusen but there would be no repeat performance last night.
2 – Only against @FCAugsburg, Emre Can from @LFC managed to score 2 BL goals. Welcome. pic.twitter.com/J1EvRByK3x

— OptaFranz (@OptaFranz) February 18, 2016
Can did get quite a lot of stick after the game with some fans calling on the young midfielder to start maturing.
@PDaley1 great I'm not the only one that thinks Henderson is a liability and emre Can needs to grow up!

— Abdussalam (@akh_Abdul) February 18, 2016
Can did not exactly put on his greatest performance but some fans felt he was being unfairly singled out.
https://twitter.com/ssnhqfirmino/status/700424086569271296
Reds captain Jordan Henderson and Can definitely seemed to frustrate more than a few fans on the night.
https://twitter.com/RkuaMi/status/700449690136006657
Other fans however, urged for patience underlining that Can needs time but that he does have huge potential.
Emre Can – Will be a huge player for us. Hes so young but people seem to forget that. Hes inconsistent af but that's natural, will be v good

— Jack (@JackONeillLFC) February 18, 2016
Luckily for Can his poor performance was overshadowed by his devilishly good looks for a few female fans,
https://twitter.com/JassyKaur01/status/700456032489889793