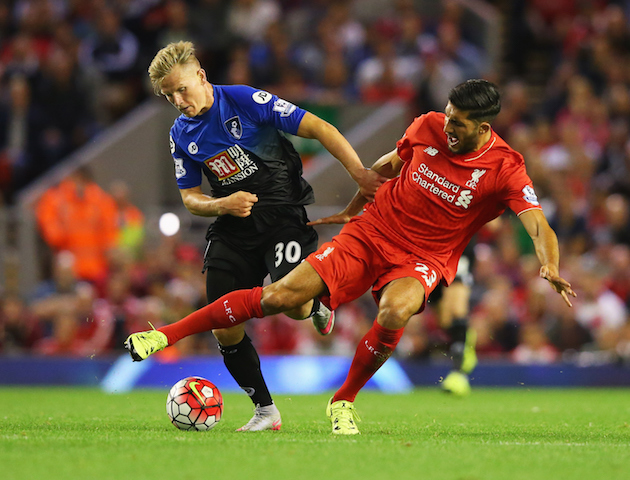 Liverpool suffered a 3-1 defeat against Sevilla in the Europa League final yesterday despite taking a first-half lead.
Emre Can started his first European competition final but it all ended in tears – literally – for the young midfielder.
We took a look at how Liverpool fans reacted to Can's performance on the night.
Can's performance received mixed reviews but there were more than a few critics on the night frustrated with how he played.
I've never seen a player like Emre Can, the man manages to convince everyone he's good but still doesn't add anything to the #LFC team

— JC (@JCSJFootball) May 18, 2016
Some critics were harsher than others.
Emre Can wasn't bad bad but I don't see him being world class. He's a good player don't get me wrong but world class? Hmm…… #LFC

— Timmy Robson (@WaveyTimz277) May 18, 2016
Moreno received the lion-share of the blame but some thought Can deserved just as much stick.
A lot of people blaming #Moreno rightfully so but I feel #EmreCan is not good enough at CDM. #Gutted #Lfc

— Soe Dube (@Simply_Soe) May 18, 2016
There is always one!
Emre Can't

— Tom (@Tom_Kelton) May 18, 2016
Not everyone had something bad to say.
False. Emre Can is our most consistent player besides Clyne all season. Hope you enjoy him becoming our captain. https://t.co/ykhV9IyLNF

— Gleetchie (@globoygleesh) May 18, 2016
Can also showed a lot of emotion after the came bursting into tears after the final whistle. The 22-year-old may not have had his best game but it was his first European competition final and it definitely meant a lot to him as is evident from the picture.
La foto del día, de la temporada. La imagen de un tío que se deja el alma por estos colores. Siempre Emre Can. #YNWA pic.twitter.com/JmWaUGpNzL

— Oscar Fernández (@perrifilms) May 18, 2016
There was a lot of sympathy for Can after the game.
the sight of Emre Can crying is just so painful.

— 삼:三 (@2fd18) May 18, 2016
He also gained respect for showing just how much losing the final meant to him.
Emotion from Emre Can and @Phil_Coutinho just shows it means a lot to them achieving success for @LFC #KeepGoingYouWillDoIt #YNWA

— Luqman Liaqat (@LUQY_1992) May 18, 2016
🙁
You're probably not human if a little piece of you didn't die watching Emre Can bawling his eyes out after the final whistle.. #lfc

— Maxi Generossi (@MaxiGenerossi) May 18, 2016
There were yet more calls for Can to be captain next season.
Emre Can so passionate next LFC captain.. Moreno MOTM for Sevilla well done lad 👍

— w (@69Waj) May 18, 2016
Others blamed Can's performance on Milner not carrying out his midfield duties.
Milner isn't a CM though, he's all over the shop he leaves emre can exposed with a weak backline and a horrible keeper.

— Only LFC (@Only__LFC) May 18, 2016
https://twitter.com/stevewin74/status/733063177970278404
Emre can doesn't let us down he's been boss, Moreno yes no doubt but not Can.

— Kenny Cowin (@kennycowin9) May 18, 2016