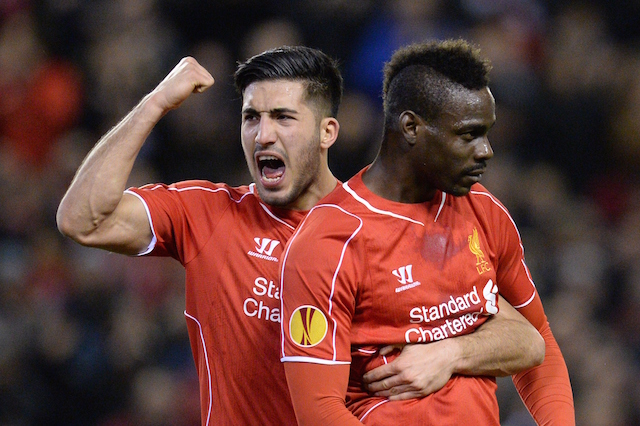 Liverpool returned to winning ways yesterday with a hard won 3-2 victory over Aston Villa in the Premier League.
The victory was the Reds first against Villa at home since 2010 and took Liverpool into seventh place in the table on 11 points.
Emre Can returned to defence where he spent most of last season playing as part of head coach Brendan Rodgers back-three and as a full-back.
Can has also featured as a right-back for the Germany national team recently but it is fair to say he did not put on his best performance against Villa.
We took a look at the reaction Can's performance got from Liverpool fans today on social media.
The general contentious was that Rodgers should not be playing Can as a defender and that the 21-year-old really should be playing in midfield.
Emre Can really should not be playing in defence.

— The Anfield Chat (@TheAnfieldChat) September 26, 2015
Emre Can clearly isn't a defender. So much better in midfield.

— Joel Rabinowitz (@joel_archie) September 26, 2015
Emre can is such a poverty defender

— Reece Berry (@berryreece16) September 26, 2015
Emre Can's defending today awful … why does Rodgers play him at the back on a plus Daniel Sturridge looked the part !!

— Krafty Kuts (@Krafty_Kuts) September 26, 2015
One fan went as far as to suggest that Can's performance in defence was just a ploy to get the manager sacked.
Emre Can is really trying to sack Rodgers.

— Paul (@Kolology) September 26, 2015
While another tweeter quite clearly showed that Can was at fault for at least one of the Villa goals scored yesterday.
@DaveHendrick_AI @_Gags_
Emre Can did a great job at pretending he wasn't at fault for 1 of the Villa goals today!https://t.co/rjwBZwEdZn

— Kenny Gaughan (@manwith3buttock) September 26, 2015