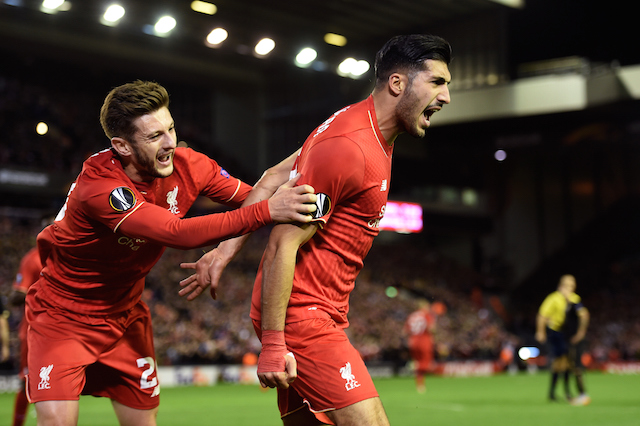 Liverpool were held to a 1-1 draw against Chelsea in their final Premier League game of the season at Anfield last night.
Reds boss Jurgen Klopp decided to give Can a place in the starting line-up after recovering from injury.
We took a look at how Liverpool fans reacted to Can's performance on social media.
Can's performance on the night did not go down particularly well with the fans.
Emre can't tonight

— P daddy (@paddyrobinson82) May 11, 2016
It is fair to say his display did not exactly go down a storm with the home faithful especially considering his performance in the 3-0 win over Villarreal in the Europa League semi-final second leg tie last week.
Not his best performance in a red shirt #emrecan

— Patrick Kasperitis (@thereal_PRK37) May 11, 2016
The contrast between Emre Can from last week to today is ridiculous

— Philip Shanko (@pshank0) May 11, 2016
There were still however, calls for Can to be captain after the game.
https://twitter.com/SimplyWilsh_/status/730524669942583298
https://twitter.com/LFC_19YearWait/status/730522083659255808
Make Emre Can our captain next season hes fucking great

— Jamie (@Roberts_J2) May 11, 2016
And then there were the now common place tweets regarding Can's good looks.
Pretty sure Emre Can fully made eye contact and fell in love with me too.😍

— Lauren Casey (@laurenjcasey) May 11, 2016
Can's celebration went down rather well as well with the Twitterati.
❤️ RT @LiverpoolGifs: 🎞 | Emre Can. ️👌🏽 https://t.co/7aswLttZam

— Osie Anggia Putri (@osiebaloon) May 11, 2016
Yet more Can love.
LOVE EMRE CAN !!!!! #YNWA #LFC

— nasrat (@Coutin1o) May 11, 2016
Can has had admirers for a while but not to this extent. The majority of tweets regarding the Germany international of Turkish origin were regarding his looks.
Obsession with Emre Can is getting a bit unhealthy now 😍😍

— Sabrina Shafi (@sabrinashafii) May 11, 2016
https://twitter.com/Lee_Parry/status/730507534054903808