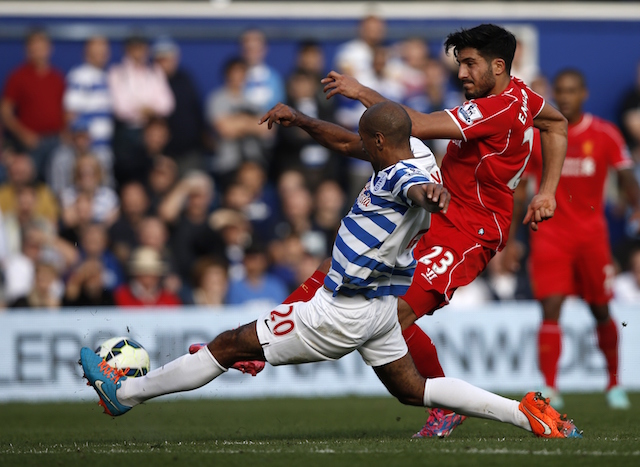 Liverpool were held to a 1-1 draw against Everton in the Merseyside derby yesterday which was followed by Reds head coach Brendan Rodgers getting the sack.
Rodgers decided to revert to a three-back that he had successful utilised last season with Emre Can returning to the defence.
Can who is by self-definition a central midfielder was used as a make-shift defender last season but looked a little rusty against Everton.
The 21-year-old's failed attempt at clearing a cross inadvertently resulted in the ball finding its way to Romelu Lukaku inside the penalty area who buried the ball into the back of the net.
We took to social media to look at what Liverpool fans reaction was to Can's performance in the derby.
Most fans were disappointed with Rodgers playing him in defence and urged the replacement manager to use Can in his proper position.
https://twitter.com/alhugLFC66/status/650648524946845697
https://twitter.com/Uwais_Ashraf17/status/650763409236094976
@smudger1981 @chopperlfc96
Whoever comes, bet you the wing backs are abolished and Emre Can is kept away from the defence!

— Nigel Anderson (@NigeAnderson) October 4, 2015
To this day, I cannot understand why Rodgers continues to play Emre Can in defence. It's not his natural position, and it is evident.

— lucas brown. (@lucas_ian_93) October 4, 2015
There was also quite a lot of banter regarding Emre Can's altercation with Barkley.
Emre Can is a scouser! pic.twitter.com/Wvq0vWliSW

— ⚡ (@IndoEmreCan) October 4, 2015
Ross Barkley & Emre Can both in the book for some classic Merseyside derby handbags.#EFCvLFC pic.twitter.com/lhMjJG6r2c

— B/R Football (@brfootball) October 4, 2015
Brendan Rodgers to Alberto Moreno & Emre Can: You do remember how to defend, right?#EFCvLFC pic.twitter.com/YhRaqppGqJ

— B/R Football (@brfootball) October 4, 2015
Another angle on Emre Can's overhead kick… pic.twitter.com/XAxIwtW0SP

— Footy Memes (@FootyMemes) October 4, 2015