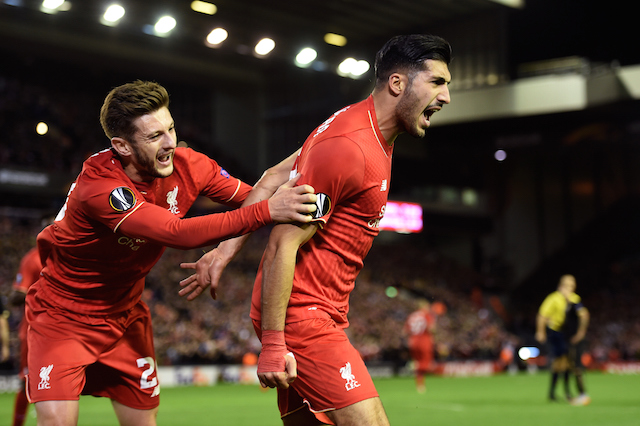 Germany beat Hungary with a 2-0 home win in the last of their Euro 2016 preparation games yesterday.
Liverpool star Emre Can came on in the second half for Jonas Hector but did not play in central midfield as he has done this season for his club instead he was deployed as a left-back.
Can is used to playing as a central-midfielder for the Reds but is used to playing in defence under former manager Brendan Rodgers.
We took a look at how Liverpool fans responded to Can's performance on social media.
Jonas Hector bagged an assist for Germany last night against Hungary. He was replaced at LB by Emre Can.

— George Curtis (@curtisofgeorge) June 5, 2016
The main talking point was as expected Can playing as a full-back again and he got a mixed response.
Emre Can played as left back for Germany yesterday. Worth to take notice of for us. LFC

— JosephJanerique (@JosephJanerique) June 5, 2016
It's brilliant that Emre Can is so heavily involved with such a good Germany side. Only going to get so much better. Could be brilliant.

— George Curtis (@curtisofgeorge) June 5, 2016
The fact that Can was not able to start in his strongest position was a cause of concern for some.
https://twitter.com/Benjhyams7/status/739397965534625793
This tweet in Turkish questions how the diaspora population in Germany number 3-4 million can produce better talent than Turkey with a population of nearly 80 million.
Mezut Özil,İlkay Gündoğan,Emre Can,3,5 M Türk'ün yaşadığı Almanya'dan milli takım seviyesine çıkıyorsa sorun,sistemde,futbolu yönetendedir.

— Ahmet Aydın (@ahmetaaydin) June 5, 2016
There was of course a lot of love for his hair once again.
Who spends the longest doing their hair at #LFC?
Mignolet: "That's obvious. Emre Can. It's always in perfect shape." pic.twitter.com/YxkYFFHDKR

— Viktor Fagerström (@ViktorFagerLFC) June 3, 2016