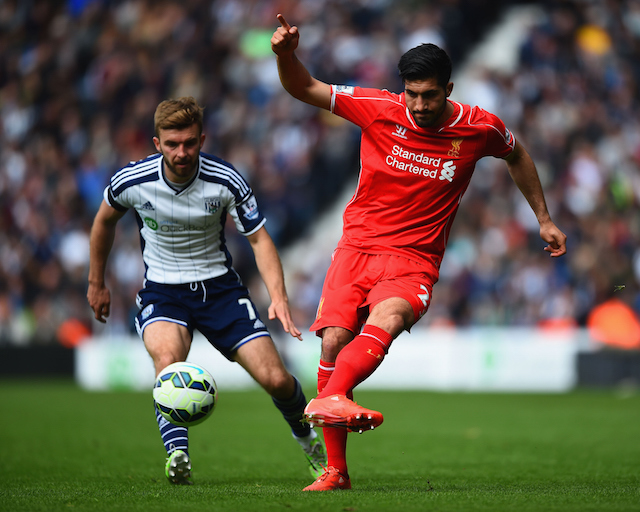 Liverpool star Emre Can played a key role in the Reds 6-1 demolition of Southampton in the League Cup yesterday.
The Germany international of Turkish origin started in central midfield and setup Daniel Sturridge with an exquisite assist that put the Reds ahead for the first time in the game after coming back from one goal down.
It was not all smiles however, as Can picked up a booking that has ruled him out of the Premier League encounter with Newcastle United on the weekend.
Sturridge found the back of the net twice in the first half while Derek Origi scored a hat-trick. Jordon Ibe scored Liverpool's remaining goal.
The 21-year-old now has one assist and one goal for Liverpool in 21 appearances this season.
Following the game we took to social media to see how Can's performance went down with fans.
It probably will not come as much of a surprise that quite a few tweeters quite impressed with his assist.
Just seen the pass by Emre Can for @DanielSturridge 2nd goal straight #BMO Jheeze 👏🏿👏🏿👏🏿👏🏿👏🏿

— daRealAAkinfenwa (@daRealAkinfenwa) December 2, 2015
Emre Can bossing the midfield like @CormackMartin on the Astro back in the day….

— Neil Coverley (@neilcov) December 2, 2015
Other fans were impressed with his performance in midfield and criticised former manager Brendan Rodgers who deployed him as a defender for most of the season.
Its God that will punish Rodgers were ever he is… See Emre can he turned to defender… Now a midfield king

— Eromosele Hoekage (@eDante_) December 2, 2015
Emre Can playing a huge role in Liverpool's second goal, very impressive play in midfield. He's improving slowly with each game he plasy.

— NM (@UtdDi) December 2, 2015
Another tweeters revealed that he is looking forward to seeing Can work alongside Jordan Henderson when he recovers from injury.
Emre Can is looking a real bargain Looks so good on the ball, driving force in midfield. Him & a fully fit Hendo will be an interesting duo

— This Charming Man (@AKA_Russell) December 2, 2015