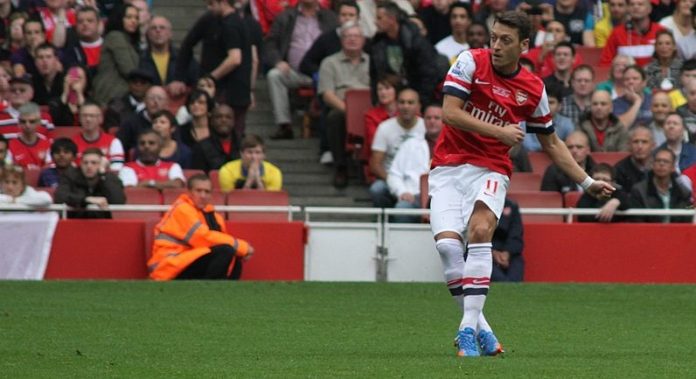 Mesut Özil has stated that his free-kick goal against Liverpool was one of the highlights of his season.
The 26-year-old playmaker scored in Arsenal's 4-1 victory over top-four rivals Liverpool at the Emirates Stadium with his sides other goals coming from Hector Bellerin, Alexis Sanchez and Olivier Giroud.
The victory was a key moment in Arsenal's season which went a long way to securing the Gunners a three four finish.
"The goal against Liverpool was really nice and I was delighted to score it," Özil was quoted as saying by the Daily Star.
"What made it even better was our overall performance on that day. 
"We played some beautiful football against Liverpool – they didn't have a chance to beat us on the day. For us it was a great game."
Özil also went onto thank the clubs fans for supporting him while he was out injured.
See More:
Arsenal News
Fans react to Mesut Ozil's performance in Arsenal's draw with Sunderland
Mesut Ozil has been 'excellent' for Arsenal says Gary Neville
"The German said: "Of course I remember my comeback [as well], where the fans supported me so well."
Özil has been in good form since returning from injury winning two Vitality Arsenal Player of the Month as well as a PFA Fans Player of the Month awards.
The 26-year-old has covered more distance, scored more goals, provided more assists and improved his sprinting since returning from injury at the start of 2015 according to the official Premier League website.