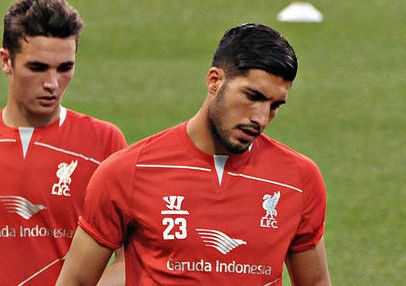 Football pundit Jamie Carragher has criticised Brendan Rodgers decision to play Emre Can out of position over the 2014-15 season and stated that he hopes the Liverpool youngster is played in midfield after the summer break.
Can wears the number 23 shirt in honour of Carragher but the Liverpool legend feels he is being waisted in defence.
On Facebook, Carragher wrote: "I criticised Emre Can against Chelsea in the semi-final of the Capital One Cup whilst working for Sky about his defending, especially when dragged out to wide areas from his right centre-back role, which was shown in the penalty he conceded to Eden Hazard.
"He'd been playing well in that role in terms of bringing the ball out of defence as he's very confident on the ball, but he struggles with quick movement around him with or without the ball – that's highlighted more at right-back as he has to defend more 1v1 there than when playing right centre back."
See More:
Guide to pronouncing Emre Can
3 reasons Emre Can should stay in the Liverpool defence
Turkish footballers abroad
Despite criticising some of his defensive performances Carragher did underline that Can has been one of the Reds highlights of the season and that he looks forward to seeing more of him over the next league campaign.
"In recent weeks and against Crystal Palace last week and Stoke today he's found it tough, he's been one of the highlights at times of a difficult season for all but next season I'm hoping we see more of him in midfield," he added.
Can joined Liverpool from Bayer Leverkusen as a central midfielder but has played most of the season as part of a three-man defence and more recently as a right-back culminating with a heavy 6-1 defeat against Stoke City in the Reds last Premier League game.
The 21-year-old scored a 4.21 rating according to Whoscored which was his lowest score of the season and the Reds worst performer on the day.