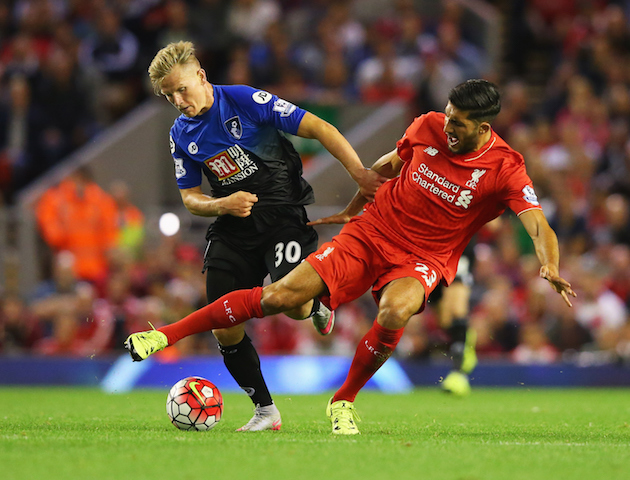 Liverpool beat Manchester 2-0 in their first European competition meeting at Anfield yesterday in the Europa League Last 16 first-leg clash.
One of the main talking points after the game other than the goals was whether United's Fellaini intentionally elbowed Liverpool midfielder Emre Can.
.@HowardMWebb expects UEFA to look into @Fellaini's off-the-ball "act of violent conduct" on Emre Can. #LFCvMUFC https://t.co/mFC2k9M2lG

— BT Sport Football (@btsportfootball) March 10, 2016
We took to social media to delve into what United and Liverpool fans made of the incident.
Liverpool and Manchester United fans were involved in a quite a bit of banter directed at Fellaini. Reds supporters joked that they hope he does not get suspended for next weeks game after his poor performance during the first-leg.
Emre Can playing down the Fellaini incident in the hope he doesn't get banned and has to play next week.

— The Anfield Chat (@TheAnfieldChat) March 11, 2016
https://twitter.com/9trollfootball/status/708238693685972992
Some United fans on the other hand have been praying for the FA to ban Fellaini for the return leg after the display he put on in the first-leg at Anfield.
https://twitter.com/PremiereFootbal/status/708049922310934528
https://twitter.com/Martialisation/status/708049788068044800
There were also more serious tweets calling for Fellaini's to be punished with violent conduct for his elbow on Can.
@AnfieldLeak Fellaini deliberately swung an elbow into the face of Emre Can! Should be banned from the next match minimum!

— islandbiker (@Islandbiker) March 10, 2016
There were even a few tweeters who thought Can went down rather easy and that he made a meal out of the whole incident.
On that evidence, Emre Can would get knocked down by a gust of wind. Fellaini is handy with his elbows but he's barely touched him there.

— Paul Carrott 🥕 (@PaulCarrott3) March 10, 2016
The big question however, was of course who would win in a fight between Can and Fellaini. The United man has a height advantage but Can is built like a tank which would probably make for an interesting matchup.
The big question is, who would win in a fight between Emre Can and Fellaini

— Victoria Potts (@vikipotts) March 10, 2016
Who do you think would win?