Liverpool star Emre Can has extended his condolence to the victims of the families of the Ankara bombing that rocked the capital yesterday.
At least 37 people were killed and more than 70 injured after a car bomb struck the Kizilay area of the Ankara.
Can shared an Instagram photo that wrote Ankara and 'we condemn terrorism' along with a caption praying for the victims of the attack.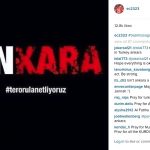 The terrorist organisation PKK is reported to be behind the bombing, security officials said on Monday.
Can is one of several ethnic Turks in the Germany national team and has family in Turkey but fortunately none were hurt in the blast.
The attack did however, strike at the heart of football in Turkey as the father of Galatasaray striker Umut Bulut tragically lost his life in the bombing.
Several other players condemned the attacks today including Barcelona star Arda Turan, Arsenal playmaker Mesut Ozil and Chelsea legend Didier Drogba.
Başımız sağolsun cennet vatanım. Yüreğimiz yanıyor. Giden her can bizim, akan her damla gözyaşı bizim. Bu son olsun! pic.twitter.com/BfR2Evnu2h

— Arda Turan (@ArdaTuran) March 13, 2016
#PrayForAnkara 🙏 pic.twitter.com/ihSCVLcANi

— Mesut Özil (@MesutOzil1088) March 13, 2016
Başın sağolsun Umut Bulut, çok üzgünüm. Başın sağolsun. Acını paylaşıyorum pic.twitter.com/sl0zCsazrL

— Didier Drogba (@didierdrogba) March 14, 2016
The Turkish Football Federation (TFF) and all domestic club extended their condolences to the victims of the families that lost loved ones as a result of the attack.
Fenerbahce and Galatasaray fans have called for the Intercontinental derby next week to be played in front of mixed crowd to show solidarity and unity against terrorism.
See More
West Ham star Dimitri Payet edges out Arsenal's Mesut Ozil to win London Player of the Year
Arsenal boss wants Mesut Ozil to score goals like Thierry Henry