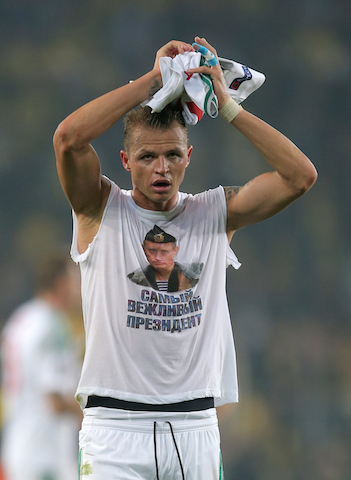 Fenerbahce beat Lokomotiv Moscow 2-0 in the Europa Round of 32 first-leg tie at the Sukru Saracoglu.
The game went ahead relatively event free considering the political context going into the clash. Relations between Russia and Turkey are at an all time low after Turkish forces shot down a Russian war plane near the Turkish-Syrian border.
Tensions between Turkey and Russia have spilled over into football with controversial moves such as players bans.
Russia recently outlawed domestic clubs from signing Turkish players according to the Independent.
Lokomotiv rivals Spartak were fined 100,000 roubles ($1,446.45) after their supporters burnt Turkish flags during a Russian league game against Krylia Sovetov Samara by the Russian Football Union (RFU).
There were however, a few incidents involving stones being thrown at the Lokomotiv team bus. Then there was of course an act of provocation from midfielder Dmitri Tarasov who took off his playing shirt to reveal a vest depicting Putin in a navy cap with the words "most polite president" printed below.
Putin is not exactly the most popular man in Turkey right now but considering the message was in Russian it is unlikely most of the fans even got the message he was trying to make.
Tarasov claimed he did not aim to provoke anybody with his t-shirt: "I didn't want any provocations, I'm just a patriot of my country, and Putin is the president of our country," he later told LifeNews and revealed that he may wear another shirt inspired by the Russian president in his next game.
The actions of Tarasov could land him in hot water with UEFA which forbids political statements during matches.
Lokomotiv could face disciplinary action and Tasarov could find himself banned for a minimum of 10 games.