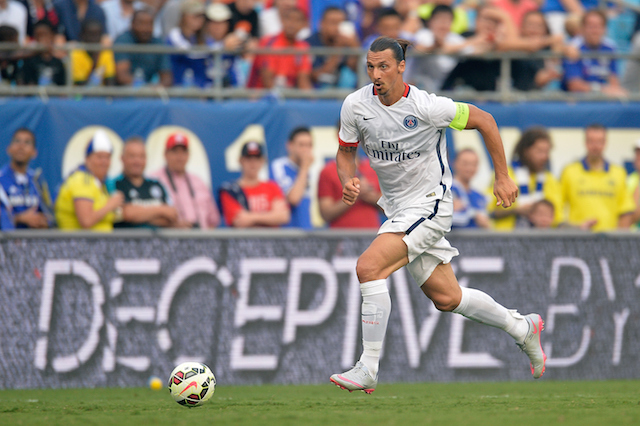 Zlatan Ibrahimovic made his unofficial debut for Manchester United against Galatasaray yesterday and as most of you probably expected to ended up scoring – and scoring in style.
https://twitter.com/Turkish_Futbol/status/759700541907701760
We took a look at how fans reacted on social media to Ibrahimovic's display on social media.
Well there was no surprise as to who the main star of the show was in Sweden going into the game at the Ullevi stadium.
Zlatan Ibrahimovic #9 jerseys everywhere. #MUFC pic.twitter.com/EaDlI63YeN

— United Report (@ManUtdReport_) July 31, 2016
It took the powerful striker just 190 seconds to score on his United debut.
The whole 'Dare to Zlatan' thing was soon back in full force yesterday with funny GIF's flooding twitter.
Zlatan Ibrahimovic scores 190 seconds into his Manchester United debut… Deal with it pic.twitter.com/TWBFLFyfvd

— Bleacher Report (@BleacherReport) July 30, 2016
Three minutes into his Manchester United debut, Zlatan Ibrahimovic scores with an acrobatic volley… #MUFC pic.twitter.com/hKdjjV6Ps7

— B/R Football (@brfootball) July 30, 2016
Valencia's cross and assist in the buildup to the goal did not go unmentioned either and drew widespread praise.
Don't know what's more impressive: Ibrahimović scoring after 3 minutes or Valencia crossing past the first man. https://t.co/8zSlgtmX2A

— Liam Canning (@LiamPaulCanning) July 30, 2016
Zlatan just won over a lot of fans
Ibrahimovic is God. #MUFC

— Toby Dobson (@Tobiias) July 30, 2016
Ibrahimovic really has got United and non United fans alike pretty excited about what they can expect
Cannot wait to see Zlatan Ibrahimovic in action. Think I'm going to enjoy watching him as much as I did Dimitar Berbatov.

— The Peoples Person (@PeoplesPerson_) July 30, 2016
We thought this was pretty clever.
https://twitter.com/TrollFootball/status/759687855870312448
Even when he wasn't playing it was still all about Zlatan.
Video: Rashford's run against Galatasaray & Zlatan's reaction to that. https://t.co/2N2cTjdsil

— Man Utd Stuff (@ManUtdStuff) July 31, 2016
And here is what the big man had to say after the game.
Zlatan Ibrahimovic: "Big things to happen this season, if Pogba comes we'll be even better." pic.twitter.com/Md31yimhRo

— Man Utd Stuff (@ManUtdStuff) July 30, 2016