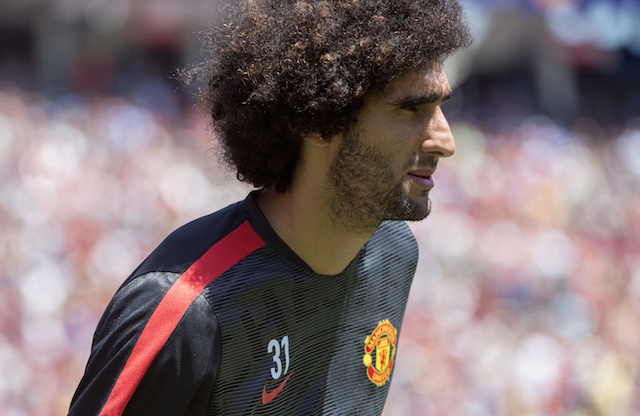 Manchester United midfielder Marouane Fellaini has been linked with a move to Turkey according to TalkSport.
Speaking on the Insider Trading show Warren Haughton said Galatasaray and Fenerbahce are both interested in the Belgium international.
Houghton said: "Well there is interest from Fenerbahce and Galatasaray as well so obviously Fenerbahce signed Van Persie and Nani as well so that would be interesting."
Fenerbahce have already signed two United players over the summer transfer window in Robin van Persie and Luis Nani.
Yellow Canaries board member Ilhan Eksioglu recently revealed that they are interested in making one more transfer.
https://twitter.com/eksiogluilhan/status/631909348822941696
Fenerbahce have already made 10 transfers this season including the likes of Lille defender Simon Kjaer, Brazil international Josef de Souza and Turkish international Ozan Tufan.
Galatasaray are also interested in strengthening the midfield over the summer and the club is under pressure to make a marquee signing after rivals Fenerbahce and Besiktas both stole the limelight over the transfer window.
The Lions won the league title for a record 20th time last season and booked a place in the Champions League group stages for the fourth consecutive season.
See More
Former Liverpool star convinced Van Persie to join Fenerbahce
Ex Man Utd striker can only make maximum £77,000 per-week at Fenerbahce