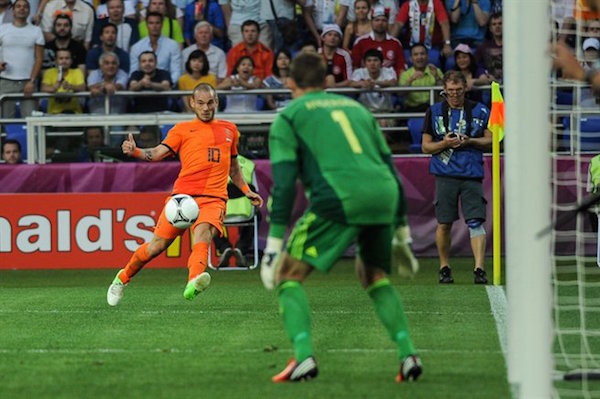 Wesley Sneijder has been linked with a move to Manchester United for what now seems an eternity.
The Aksam newspaper went ahead with this summers edition not only linking Sneijder with a move to United but claiming that Galatasaray have offered a part-exchange deal.
Mourinho and Sneijder are of course no strangers having enjoyed a successful spell together at Inter Milan winning the treble – Serie A, Champions League and Italian Cup.
We took a look at how United fans reacted to the news on social media.
As expected nobody was all that surprised.
We are linked to him every season… https://t.co/Sd7fxhjpdW

— RedDevils (@RedDevilsPR) June 29, 2016
It simply would not be transfer season without Sneijder being linked with United.
If there isn't a rumour about Sneijder to United during a transfer window, did the transfer window really happen? #AnnualNews

— Suhaymah. (@Suha_MUFC) June 29, 2016
It really does feel like transfer season now.
Yesss United transfer rumours is complete now with finally getting linked with Sneijder

— Sannith Wazza Shetty (@sannithmufc) June 29, 2016
Well to be honest Sneijder is not all that bad and he has a great relationship with Mourinho. It is not like he is a bad player and not like he has not won it all with Mourinho in the past.
@_reddevil23 @Turkish_Futbol @The_MUFC_Agent @BusbyMUFC @TotallyMUFC he's well past his sell date! We don't need him We can do much better

— Trevor Oneunitedfan (@Oneunitedfan) June 29, 2016
Has it been that long?
6 years straight & they still find a way to link Sneijder & United

— BamBam (@ibasky) June 29, 2016
Three years in the Super Lig winning two league titles, three Turkish Cups and a Champions League quarter-final finish. Think most United fans would be happy for winning the league and a decent European run these days.
United signing a 32 year old Sneijder who's spent the last 3 years in the Turkish league….

— CJ. (@FutbolCJ) June 29, 2016
The transfer rumour that never stops.
Managers may come and managers may go but 'Sneijder to United' will go on forever 🙈 https://t.co/ADgwOA1V9B

— Anirbaan Das (@Anirbaan0307) June 29, 2016
Had to chuckle at that one!
I bet even Sneijder's kids will get linked with United

— Nathan (@michaelxavick) June 29, 2016
Well that would be interesting!
Lmao you'll have papers linking Sneijder with the United job one day if he decides to go into management

— Harsh (@KokeAndMentos) June 29, 2016
Some support for Sneijder at last.
@DanTosic @ManUtd @Turkish_Futbol I'd still take 50 year old Wesley then fellaini

— omar badat (@omarbadat2) June 29, 2016