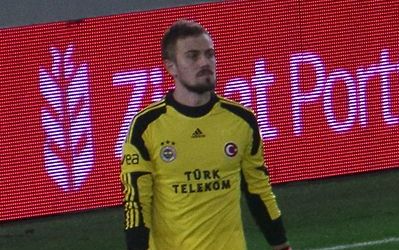 Mert Gunok will not be joining Trabzonspor says agent [divider]
Fenerbahçe goalkeeper Mert Günok will not be joining Trabzonspor according to his agent Batur Altıparmak.
"Mert has a contract with Fenerbahçe, we will not enter talks with any other club without holding talks with Fenerbahçe first," Altıparmak said.
Trabzonspor had been closely linked with Günok whose contract with Fenerbahçe finishes at the end of this season.
Yanal, who worked with Günok while at Fenerbahçe has made signing the highly rated keeper a top priority due to first-choice keeper Onur Kıvrak being out until the end of the season.
Günok is currently second choice keeper at Fenerbahçe behind Turkish international Volkan Demirel.
The 25-year-old keeper rose through the ranks of the Fenerbahçe youth system before being promoted to the senior side in 2010-11.
Günok has made five appearances in all competitions for the Yelow Canaries this season.
The Turkish international keeper has made a total of 37 appearances for Fenerbahçe in his career.