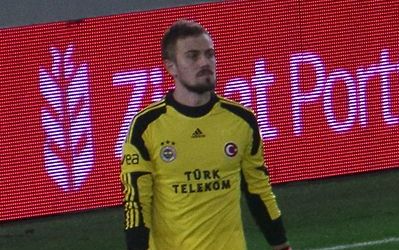 Mert Günok will not be leaving Fenerbahçe says agent [divider]
Fenerbahçe goalkeeper Mert Günok will not be joining Trabzonspor in January according to agent Batur Altıparmak.
"Mert Günok still has a contract with Fenerbahçe," Altıparmak said.
"We will not hold talks with other clubs without informing Fenerbahçe first, that would be unethical. 
"I know about the rumours in the press right now regarding Günok joining another club, I just want to say it is nonsense, he will not be joining them. 
"If Fenerbahçe say they do not want Mert then of course we will consider our options but until Fenerbahçe say otherwise he is their player."
Günok has been closely linked with a move to Trabzonspor this January.
Günok is currently second choice keeper at Fenerbahçe behind Turkish international Volkan Demirel.
The Turkish international keeper has made a total of 37 appearances for Fenerbahçe in his career and has a year left on his contract.