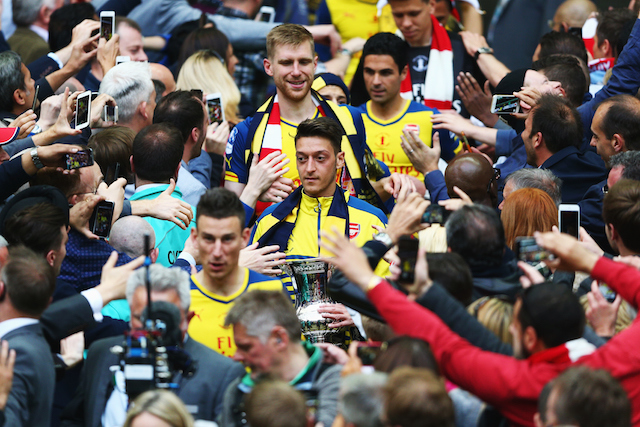 Arsenal playmaker Mesut Özil has played with some of the greatest names in world football but it seems his role model is not Cristiano Ronaldo or any attacking based player at all. Instead the 'BFG' Per Mertesacker is the player the World Cup winner looks up to.
"I always see Per as a role model," Özil told Arsenal Player. "He always gives everything for the team, you can see that he's determined and wants to be successful. You can sense that on the pitch."
The German defender has been affectionately given the moniker "BFG" by the Arsenal fans after the Roald Dahl character "Big Friendly Giant" according to the BBC.
Özil and Mertesacker were both part of the Germany national team that lifted the 2014 World Cup in Brazil last last as well as two consecutive FA Cup trophies and most recently the Community Shield.
The 26-year-old playmaker was born in Germany into a Turkish family. Turks form the largest non-German ethnic group in the country numbering an estimated 3-4 million.
The Gunners kick-off their league campaign with a London derby against West Ham in their opening game of the 2015-16 season this weekend.
Özil and Mertesacker are both expected to start for the Gunners against West Ham on Sunday 9 August at 13:30 GMT.
See More
Arsenal captain Per Mertesacker disappointed at sale of Podolski
Neymar calls Barcelona star Arda Turan his 'bro'