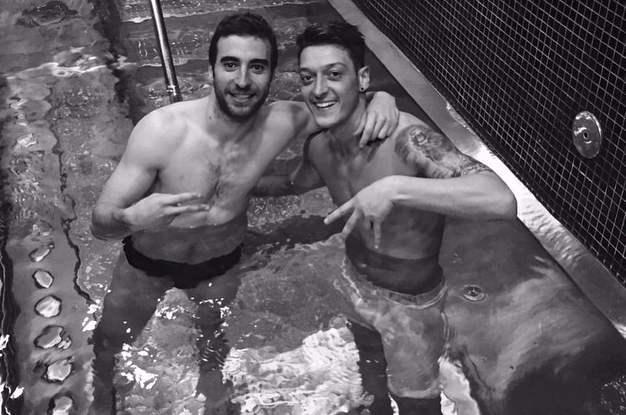 Mesut Ozil has been revealing all in his latest round of Q&A on Twitter from his favourite music to why he wears tape on his wrists during games.
Ozil was also asked which Arsenal player he thinks is the most handsome and it came of little surprise that he picked his bff Flamini.
who is the most handsome guy in arsenal! #askMesut #ViveLaMannschaft pic.twitter.com/hMedxVEaYM

— MadeInHeart 27012012 (@taehninkal) June 2, 2016
I choose Flamini again! 😎😂😁 https://t.co/e0hNjYaSYU

— Mesut Özil (@MesutOzil1088) June 2, 2016
It appears the Ozil-Flamini bromance is alive and well. Gunners teammate Theo Walcott went as far to describe the connection between the two as 'Flamzil'.
"We actually call them Flamzil," Walcott was quoted as saying by the Evening Standard.
Ozil has posted countless pictures on his Instagram account alongside the French midfielder.
Flamini has not been shy in revealing that he feels a special relationship with the 26-year-old.
"Mesut is one of my closest team-mates and we were on the pitch," Flamini told the official Arsenal website.
Daniel Welbeck described the two players fondness for each other by saying: "The bromance of the season award goes to Mesut Özil and Flamini they are twins. I've played with twins, in Fabio and Rafael Da Silva, but these are closer."
Walcott also said: "They go to the gym together, have massaged together I wouldn't be surprised if they even share a house together."
Ozil will be without his best friend by his side over the summer as he competes in Euro 2016 for Germany. The Arsenal playmaker is one of two players in the German side who is of Turkish origin with the other being Liverpool midfielder Emre Can.
See More
Arsenal fear Mesut Ozil departure as contract talks put on hold
Arsenal keeper Petr Cech praises Mesut Ozil's work rate