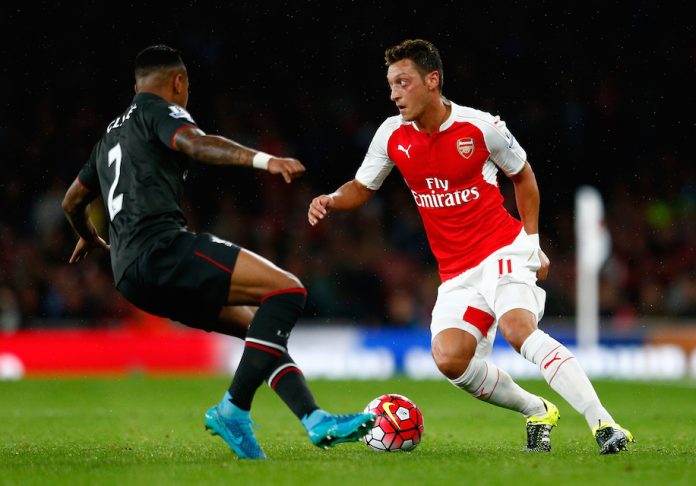 Mesut Ozil has attempted to build bridges with Arsenal teammate after they had what appeared to be a social media spat.
Ozil came out in support of Giroud following his opening goal for France in the 2-1 victory over Romania in Euro 2016 yesterday.
You deserve it, @_OlivierGiroud_! 👍😉⚽ #Goal #FRAROU #FRA #EURO2016

— Mesut Özil (@MesutOzil1088) June 10, 2016
The 27-year-old playmaker also backed Giroud before the game with another supportive tweet.
All the best to my french @Arsenal teammates Olivier and Laurent for the opening match! ⚽😉 #FRA #Euro2016 #FRAROU pic.twitter.com/urLxR1XpIM

— Mesut Özil (@MesutOzil1088) June 10, 2016
Ozil reportedly took a dig at Giroud liking an Instagram post in May which blamed the French international for him not being able to beat Thierry Henry's all-time assist record.
The picture pointed out that the Germany international of Turkish origin reached 15 Premier League assists by December 22 and needed just six more in 2016 to beat Henry's record of 20.
The post reads: "On December 22nd Ozil made his 15th assist of the season meaning he'd only need 6 more to break Thierry Henry's record.
"But then Lord Giroud decided to stop scoring and Ozil finished with 19 assists."
In a recent interview with the Guardian, Giroud went onto hint that Ozil may have been responsible for Arsenal's dip in form after the turn of the year.
"For some reason we always seem to have this dip around March," Giroud said.
"Not just me, if you look at our best players, such as Mesut Ozil who made less assists after the turn of the year."
Best friends again?
See More
Group D: Turkey Euro 2016 team guide
Euro 2016: Turkey v Croatia Preview & Prediction